Royal Marines Band performs proms concert in Helmand
The group of twenty 'Bandies' has been deployed with the United Kingdom Medical Group on Operation HERRICK 14 since April 2011, providing support…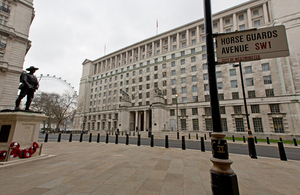 The group of twenty 'Bandies' has been deployed with the United Kingdom Medical Group on Operation HERRICK 14 since April 2011, providing support to 3 Commando Brigade as drivers, signallers and in administrative roles.
Based in Helmand province, the men and women from the Royal Marines Band normally based at the Commando Training Centre in Lympstone, Devon, are instrumental in the transfer of casualties from the helicopter landing site to the UK hospital within Camp Bastion.
They also drive and command the armoured battlefield ambulances used in the combat logistic patrols which supply food, ammunition and medical supplies to the forward operating bases.
Despite being deployed in a non-musical operational role, the musicians were keen to give up some of their free time to rehearse for a concert which was performed in an open area between the accommodation tents in Camp Bastion on the evening of Saturday 6 August 2011.
The programme included mess beatings by the Corps of Drums, the music of Sir Edward Elgar and Sir Henry Wood, and a traditional naval sunset ceremony.
The concert concluded with a rousing rendition of 'Rule Britannia', sung by Petty Officer Chippy Carpenter, complete with homemade trident, winged helmet and draped in a Union Flag. Over £300 was raised in donations on the night for selected Service charities.
Commodore Clive Walker, who commands Joint Force Support in Afghanistan, said:
I am extraordinarily proud that in parallel with being instrumental in providing our front line Royal Marines and soldiers with the very best medical care possible, the Royal Marines Band Service is also maintaining its fine musical pedigree in the challenging environment of Afghanistan.

Their performance was exceptional and the effect on morale has been quite notable.
The Adjutant of the Medical Group, who is also the Director of Music of the Lympstone Band, Captain Rich Harvey, said:
Traditionally Royal Marines musicians and buglers have been associated with the medical side of war and conflict for many years, having been involved in every major conflict since World War One, but it is as musicians and entertainers that we feel most at home.

It was fantastic to be able to bring a little piece of British tradition out here to the troops who have been working so hard over the past four months.
Within moments of finishing the concert, the musicians were back behind the wheels of their ambulances as the sound of an in-bound helicopter signalled the arrival of a casualty from the battlefield.
Due to return to the UK in October 2011, the band members are looking forward to resuming their musical duties in time for the November ceremonies and Christmas with their families.
Published 15 August 2011