Royal Marine trains for Olympic Rowing Team
Royal Marine and Olympian, Captain Dan Ouseley should be an example to any schoolchild who is always picked last for the school football team…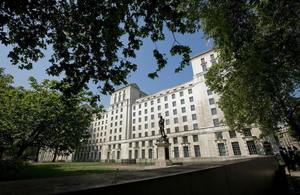 Royal Marine and Olympian, Captain Dan Ouseley should be an example to any schoolchild who is always picked last for the school football team. When he was such a 14-year-old no-hoper, instead of taking it to heart and feeling sorry for himself, the young Dan was inspired to take up rowing instead.
Back then, he knew next to nothing about rowing:
Except the Boat Race, which everyone's heard of," he admitted.
But with his strapping physique, he soon learned to relish the physical challenge of rowing:
To be honest, I fell in love pretty quickly.
It was a love affair that has lasted and, for the last 15 months, Captain Ouseley, who is a member of the Armed Forces Elite Sports Programme, has been in full-time sports training and is in the running to qualify for the British Olympic squad.
Selection trials and the World Cup will decide his fate, and Captain Ouseley will find out on 6 June whether he's done enough to make into Team GB.
Remarkably, he has pursued his rowing ambition while building a career with the Royal Marines, which he joined in 2005 to fulfill a schoolboy dream:
The Marines are great at selling themselves, and the Commando brand is a very powerful tool to attract young men, and to be honest, I was a sucker for the challenge of the Commando test and the ethos of the Royal Marines," he said.
Captain Ouseley served as a troop commander with 40 Commando, attached to 52 Brigade in Afghanistan in 2007, based in Sangin. He said:
We carried out patrols, reconstruction and reassured Afghan locals and fighting the enemy as they appeared.
After his HERRICK deployment, Captain Ouseley was posted to the Commando Training Centre at Lympstone in Devon for 18 months, followed by the gruelling Landing Craft course in Poole, Dorset:
There was a real sense of being involved with something unique to the Royal Marines experience," he said.
He spent a further year there as a boat troop commander. But his most rewarding period was as troop commander with 40 Commando and at the Commando Training Centre in Lympstone:
I was much more involved doing the kind of things that I joined up for such as issuing orders, troop attacks and crawling around in mud.
Now his focus is on qualifying for London 2012. Training twice a day, seven-days-a-week, he puts in the hours on the river combined with a gym workout in between.
That's a big day at the office, even for a "bootneck". But going for gold does call for sacrifices, and Captain Ouseley's healthy diet rules out many pleasures (except the odd beer), as he's loath to concede even a tiny gain to the opposition in the shape of any unnecessary ballast.
For many athletes, the trials are daunting as the thought of missing out on a home Olympics is too much to contemplate. But Captain Ouseley is confident of hitting his best form when it really matters:
It's something that I think about but I try to stop myself because it's easy to daydream, and if I indulge those fantasies I'm not necessarily concentrating on the grind of getting better," he said.
If he qualifies, this will be Captain Ouseley's second Games. He reached the 2004 finals in the Men's Eight in Athens; an event in which his boat finished ninth, leaving him frustrated:
From a performance point of view, it was disappointing but from the whole build-up and Olympic experience, it was definitely worthwhile and has been my inspiration again for all those long hard mornings on the river.
The big difference this time is that the Games takes place on home territory:
If you put on sport in England, people will go and watch, so to have the Olympics in all these different venues is going to be amazing," he said. "Even if you haven't got tickets, people can't help but be excited. I'm sensing that and it really gives an edge to our training.
As a youngster, Captain Ouseley vividly recalls being glued to the Olympics on TV and said that if he qualifies, it will be surreal to experience the unique atmosphere on home waters at the purpose-built rowing course at Dorney lake, near Windsor:
It's easy to lose perspective and say that the Olympics is the most important thing in life but there's a real sense that this is one great big Olympic show and you're getting the very best there is to offer - and for a spectator or an athlete that's pretty special.
Captain Ouseley sees the threat coming from Australia, Germany, the US and New Zealand, but his Marine training has definitely lifted his confidence:
I think some of the younger guys get tunnel vision. But it's my second time around and my job with the Marines has given me a bit of perspective to enjoy the racing and embrace nerves rather than let them take over," he said.
We need your help! We are trying out designs for a new single website for all of government and we'd love your feedback. Please visit the 'Government beta site' by clicking on the link under Related Links.
Published 30 March 2012