Royal Marine stays calm in Taliban ambush
The incident happened four months into 18-year-old Marine Milburn's six-month tour when he and his team from 40 Commando Royal Marines, based…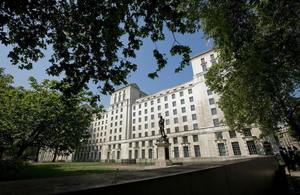 The incident happened four months into 18-year-old Marine Milburn's six-month tour when he and his team from 40 Commando Royal Marines, based at Waterloo patrol base in Sangin, were returning from a resupply mission to a neighbouring base.
They had just dropped off a supply of fresh meat and water to fellow troops and were entering an alleyway close to their base when the insurgents, who were lying in wait, opened fire:
The rounds of fire were coming in and they were quite close - I quickly got down onto my belt buckle to avoid being hit," explained Marine Milburn. "They were firing down the alley - seconds passed and we organised ourselves and started to peel back, just like we are taught in training.

As we passed another opening, the incoming fire continued. I got into a fire position by the entrance to the patrol base, waiting to ensure that everyone got back in.

This meant that I was the last man back into the safety of the patrol base. Moments later there was a big thud - I glanced back and saw a massive hole in the wall a few feet from where I'd been standing.
It was a strange experience - I felt a weird buzz. It was the adrenaline pumping through me. But we have to keep calm and focus.

Out on the ground you are always thinking about what your next move would be if you come under fire, but when it actually happened the training all just kicked in and it was all flowing. In the end everyone returned to the base uninjured which is the main point.
Marine Milburn, who hails from Middlesbrough, joined the Royal Marines when he was just 16 and has never looked back. He said:
Being in the Marines is awesome, I love it. There's good camaraderie.

I've got good friends back at home, but these are the best mates I'll ever have.
His father, a Sergeant Major, served with the Green Jackets for 22 years and was Marine Milburn's inspiration to join the military.
The Royal Marines are operating in the Sangin area to help bring security to the local people.
Published 2 September 2010