Royal Marine leads first landings with Brazilian Marines
Lieutenant Colonel Neil Wraith oversaw the dynamic drills that involved hundreds of Brazilian Marines and Royal Marines from the Royal Navy&…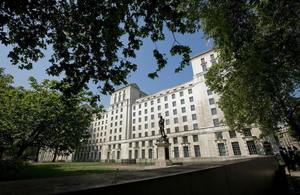 Lieutenant Colonel Neil Wraith oversaw the dynamic drills that involved hundreds of Brazilian Marines and Royal Marines from the Royal Navy's amphibious helicopter carrier HMS Ocean fast roping from helicopters and using landing craft.
Lt Col Wraith is the warship's amphibious operations officer and over the last week he has been leading on the planning and executing of the beach assaults and training being conducted by the two nation's troops. He said:
It's an interesting responsibility doing what I do. First, there is the operations officer who will deal with HMS Ocean's maritime picture; then I am the link between the ship and the landing craft that insert forces onto land by sea.

We're an incredibly flexible part of what the ship does and we are trained to work in many conditions and environments.
In just a few days the Brazilian Marines and naval pilots were trained in how to carry out amphibious drills with their British counterparts, including flying helicopters to a small island near Rio and going ashore using landing craft.
Once on the island, both British and Brazilian personnel shared their experiences - the British told of work in Iraq and Afghanistan, the Brazilians of providing security in Haiti.
Lt Col Wraith served in Iraq twice, including with the first 40 Commando unit to Al Faw during the invasion in 2003 and in 2008, and then as a company commander with 40 Commando in Helmand province in Afghanistan. Lt Col Wraith said:
That experience shows just how broad the range of skills are that you need, and why these exercises with Brazil will be of great use.
It's about being completely adaptable, being able to move somewhere quickly and accurately.

The first Royal Marine amphibious forces for the invasion of Afghanistan back in 2001 were launched from HMS Ocean when we had been operating on a completely different task.
HMS Ocean has been in the Atlantic since the summer when it took part in the international joint exercise Auriga off the coast of America.
The assault ship has also been on standby recently on the Royal Navy's Atlantic patrol in the Caribbean. Next, the ship crosses the Atlantic for more joint work with nations in West Africa.
Published 16 September 2010