Royal Marine awarded QCVS for counter-piracy operations
A Birstall-born Royal Marine whose ship chased down a pirate mothership in the Gulf and captured more than 30 pirates has been awarded a Queen's Commendation for Valuable Service (QCVS).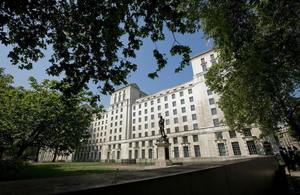 Major Adam Whitmarsh, aged 33, was based on Royal Fleet Auxiliary (RFA) ship Fort Victoria as the chief of staff for the UK's counter-piracy task group, and was part of the team that freed a Pakistani dhow and Italian merchant vessel in October 2011.
Both crews were liberated by Royal Marines boarding teams, with the pirates captured and sent for prosecution in Italy and the Seychelles.
Major Whitmarsh said:
The job satisfaction from this deployment was immense - we went out there to chase down pirates and keep the sea lanes safe and that is exactly what we did.

As part of my job on board RFA Fort Victoria I was in charge of planning the operations against the pirates, so to see it all come together and also see them sent for prosecution was a real highlight.
Major Whitmarsh deployed to the Gulf as part of the task force in September 2011 and within a month was part of an operation to free the crew of an Italian-owned cargo ship - the MV Montecristo - who were being held hostage by pirates.
The crew had managed to lock themselves inside an onboard 'safe room' once they realised they were being attacked by pirates, and, despite still having full control of the ship's main functions, they were effectively trapped inside.
As part of the task force RFA Fort Victoria was charged with helping to free them - and sent in a boarding party of Royal Marines Commandos who quickly stormed the vessel and captured the pirates without a single shot being fired:
It was a completely compliant boarding," said Major Whitmarsh. "It is always a nerve-wracking moment watching the marines board a ship because you never really know what might await them. In this case the pirates very quickly gave themselves up and were subsequently sent to Italy for prosecution.
Following the incident the task force received notice that the mothership - a captured Pakistani dhow from which the pirates had been launching their operations - was around 30 hours away and travelling at a very slow speed:
We immediately leapt into action and went after them," said Major Whitmarsh. "They were only doing eight knots [15km/h] so we could chase them down pretty quickly. What amazed us was that they had HMS Somerset on one side of their boat, us behind them, and a Merlin helicopter firing warning shots and still they would not stop.

We gave them every warning we could to let them know we wanted them to surrender - we had tried to radio them, we were physically bearing down on them and our helicopter was firing shots into the water at their bow but they were clearly of the mindset that we would not attempt to board them.
The pirates' luck did though run out in the end - RFA Fort Victoria ordered her marines to get on board the dhow, which they did, capturing five pirates and rescuing 24 Pakistani crew members. All five pirates were then sent to the Seychelles for prosecution.
The operation was Major Whitmarsh's first deployment at sea in the ten years since he joined up. Previous deployments have included Northern Ireland, Iraq and two tours of Afganistan:
If I get the chance to go out again I definitely would," added Major Whitmarsh, who now lives in Selby, North Yorkshire, and had been sent to work with the task force only a month after his wedding.
He joined the Royal Marines in 2001 and was told of his QCVS during a telephone call from his boss:
I was really surprised but proud as well," he said. "I had no idea it was coming but it is a real honour and the cherry on the cake of a really interesting deployment.
The QCVS is an emblem of silver oak leaves to be worn on the ribbon of the relevant operational medal. It recognises meritorious service during, or in support of, operations.
Published 4 October 2012