Royal Mail recognises sacrifice of Armed Forces with new stamps
Royal Mail has issued a special commemorative sheet of stamps today to recognise the sacrifice and contribution made by all those who have served in the Armed Forces.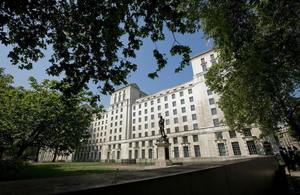 All profits from the sale of the stamps will be donated to the National Memorial Arboretum, situated in Staffordshire, and part of The Royal British Legion family of charities.
The National Memorial Arboretum Commemorative Sheet "Remembrance" contains ten 1st Class Poppy stamps, with adjoining labels bearing images of the National Memorial Arboretum, including the Armed Forces Memorial which is a tribute to the 16,000 members of UK Armed Forces who have been killed on duty or as a result of terrorism since the Second World War.
The Commemorative Sheet will be available by mail order, from most main Post Offices and at the National Memorial Arboretum at a cost of £13.50, with £9.71 donated to the National Memorial Arboretum Appeal - established to ensure the Arboretum remains a year round living and lasting centre of Remembrance.
Major General Patrick Cordingley, chairman of the NMA Appeal, said:
The Arboretum has become a place in which the Nation comes to remember and pays tribute to our Armed Forces. However, we must better honour our heroes and all they stand for by ensuring that we provide the buildings and facilities for the ever increasing number of visitors. We are delighted that the funds raised through this wonderful Royal Mail initiative will help us achieve this.
HRH Prince William is patron of the £8m Appeal, which will fund the building of a Veterans Pavilion to provide a venue for events and acts of Remembrance for the 200 military units, ex-Service groups and other interested parties to meet.
It will also enable the Arboretum to expand its work to educate children nationwide in history, the environment and citizenship.
Royal Mail spokesperson Philip Parker said:
The contribution of the Armed Forces is regularly recognised by Royal Mail stamps. We hope this special commemorative sheet is a particularly fitting tribute to those who have given their lives and that the proceeds raised will help support the Arboretum in its work to provide a national centre of remembrance.
As well as the Armed Forces Memorial, many of the other memorials and tributes at the 150-acre Arboretum are featured on the stamp sheet and accompanying presentation folder.
Published 28 October 2010