Royal Irish open boxing club for Afghan kids
Afghan children in Helmand's Nad 'Ali district have been flocking in their droves to a boxing club opened by Shropshire-based soldiers from 1st Battalion The Royal Irish Regiment.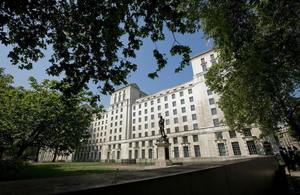 The Royal Irish soldiers, who are working alongside the Afghan National Army to provide security in the area, opened the boxing club in the village of Noorzo.
The initiative, which has proved hugely popular amongst local families, was the brainchild of Ranger Billy Ball, a 32-year-old Territorial Army soldier from Newtownabbey, Belfast. An experienced boxer and qualified boxing coach in Northern Ireland, he has led the coaching and organised matches between the children.
At the first class, 16 boys turned up, and quickly picked up the sparring techniques that they were shown. By the second session, word had spread and 40 youngsters arrived.
Captain Jeffrey Herbert, spokesman for 1st Battalion The Royal Irish Regiment, said:
The security situation has greatly improved in Noorzo since the arrival of our soldiers, and it is a very visible change in the perceptions of the locals towards us which has led to this opportunity.

The school in Noorzo is not yet back up and running since being destroyed by the insurgents - in light of that, Ranger Billy Ball came up with the idea of offering children something to do by teaching them the sport of boxing.
Some of the children are real naturals and we all hope that the 'Billy Ball Boxing Club' will continue in Noorzai long after the Royal Irish return home.
Ranger Billy Ball said:
From my experience back in Northern Ireland I have found boxing to be unique amongst sports in its ability to bridge the divide amongst communities, so it seemed the ideal sport to introduce to the people of Noorzo.

The boxing training has already broken down barriers between ourselves and local Afghans, and that has had a knock-on effect on how we work together when it comes to maintaining security here.
Amanullah, one of the village elders, said:
This training is giving the boys a much-needed release of energy, teaching them respect and discipline and giving them something to occupy them during the day. My village is grateful to Billy for giving the children this opportunity.
Ismad, a local boy who has taken part in the sessions, said:
This is good because it is fun and there is nothing else to do in Noorzo. With our new boxing team, one day we could all be champions.
Published 29 March 2011