Royal Gibraltar soldiers receive Afghanistan medals
Members of the Royal Gibraltar Regiment have received Operational Service Medals for Afghanistan at a ceremony on the Rock on Tuesday, 3 April 2012.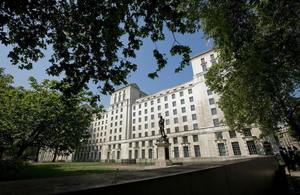 At the ceremony, held in the Convent, the five soldiers: Major David King, Captain Jamie Allan; Lieutenant John Pitto; Warrant Officer Class 2 Grant Smith and Sergeant Keith Dellipiani were accompanied by their families as they were each presented with a medal by the Governor of Gibraltar, Sir Adrian Johns.
Sir Adrian said:
It is a great privilege and pleasure to award these medals today. They recognise your contribution, and it is our chance in Gibraltar to thank you and welcome you home safely.
Major David King returned only a week ago from Helmand, where he worked in the British-led headquarters in Lashkar Gah for six months. His role there included coordinating the Task Force response after critical events:
It was a challenge coordinating between the Government of Afghanistan, NATO and the Afghan National Security Forces, but I felt I brought some good," he said.
Major King added that he was delighted to have returned to Gibraltar just in time for the birth of his fourth child.
Also working in Helmand, attached to 1st Battalion The Princess of Wales's Royal Regiment (1 PWRR), was Lieutenant John Pitto.
As Officer Commanding a Police Advisory Training Team working alongside the Afghan Police, he was very much on the front line leading his 16-man team:
It was a great privilege to command the team, the camaraderie was brilliant and it was great to see everyone's strengths work together.
Glad to get back to friends and family, the first thing Lieutenant Pitto did on returning to the Rock was to visit the Regiment:
They are my family too," he said.
Published 5 April 2012