Royal Gibraltar Regiment trains in the UK
Soldiers from the Royal Gibraltar Regiment have recently completed their annual four-week exercise in the UK where they have made use of training facilities not available on The Rock.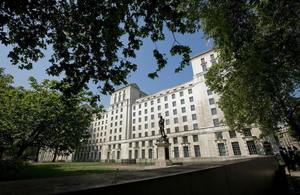 After their mandatory shooting tests on the impressive ranges at Hythe in Kent, the troops moved on to Sennybridge to make full use of the huge Brecon Beacons training area.
Unusually, the weather in South Wales was warm and sunny, so sunny in fact that a ban was imposed on the use of certain types of weapons because of the increasing number of large-scale grass fires.
During the exercise, the regiment was visited by its Commander-in-Chief, His Excellency Vice Admiral Sir Adrian Johns, and by the British High Commissioner to The Gambia, Mr Phil Sinkinson. Sir Adrian said:
I have been very impressed with the regiment's skills and motivation. Clearly, the exercise has been planned to gain maximum value from those facilities which are not available in Gibraltar.
Whilst at Hythe, every soldier completed his annual combat marksmanship test which included distances of 50, 100, 200, 300 and 400 metres. To fail at any one of these distances meant that a soldier failed the whole test.
Major Ivor Lopez said:
Hythe's ranges are excellent. As well as the rifle ranges, there are ranges for sniper weapons, for our underslung grenade launchers and for our light support weapons.

There is also a full scale 'village' in which we can practise our internal security tactics. We don't have these facilities in Gibraltar so we have to exploit this opportunity to the full.
After a long journey to the Sennybridge Training Area in South Wales, the troops stepped off the coach straight onto the training area and into five days of living 'in the field', carrying everything they needed on their backs.
During this period they practised all their basic infantry skills and relearned the art of living out in the open. Although the days were sunny and warm, night-time temperatures often dropped below zero.
The sheer size of the training area provided an opportunity to brush up on map-reading skills, so essential for soldiers who are not used to such an expanse of training land or navigating using 1:50000 maps.
It also tested the Regiment's ability to communicate by the use of radios across an area many times the size of Gibraltar. Major Lopez continued:
We have brought twenty Moroccan troops with us and that also makes us think about how we work in a multinational environment.
"Soldiers' basic skills are learned here in Sennybridge and then adapted for use in Gibraltar. And everything that will be used later in the year on Exercise Jebel Sahara has been learned here."
A further advantage of training in the Brecon Beacons is that most of the Army's infantry courses are held there. The better the regiment's troops get to know Brecon, the better their chances of doing well on their career courses.
By the middle of the third week of the exercise, the troops were carrying out company-sized attacks using 'live' ammunition and 'live' hand grenades.
In one attack, three sections each of eight men made their way up a tight valley, knowing that the 'enemy' was hidden somewhere and was about to open fire on them.
The 'enemy' was represented by electronically-operated pop-up targets but as each soldier ran and dived for cover before opening fire with at least thirty 'live' rounds, there had to be some very real safety measures in place.
Private Daniel Rodgers said:
I've enjoyed all the live firing. A lot of it has been exciting and I've learned a lot of new skills.

At the recruit infantry training centre you don't do the training for Fighting In Built Up Areas and I've never done platoon attacks with 'live' ammunition. I'm really enjoying it.
Running separately from the main exercise is the six-week Junior Non-Commissioned Officers' cadre. This tough course helps the regiment select which of its top Private soldiers will achieve their promotion to Lance Corporal.
Several members of the cadre have already dropped off the course and others have injured themselves so the numbers are falling.
Private Luke Willis said:
We know that promotion depends on how well we do here. Everyone wants to get one of the top slots. The first week was tough as we had snow and ice at night but since then the weather has improved - until today!
The final days of the exercise saw the cadre setting off on its final task whilst the main regimental exercise was moving into its most intense phase.
The officers who planned the annual exercise had aimed for something that was 'ambitious but achievable' and, clearly, they had certainly achieved their aim.
The Regiment's Commanding Officer, Lieutenant Colonel Colin Risso, said:
This exercise qualifies our unit and our people for all our operationally-mandated tasks in Gibraltar and goes further in preparing every commander and soldier for wider professional utility.

Let's be under no illusion, this is serious business and we will seize every opportunity we can to achieve the best results.
Published 13 May 2010