Royal Gibraltar Regiment takes up ceremonial duties
The Royal Gibraltar Regiment has left its base on the Rock to take up ceremonial duties in London.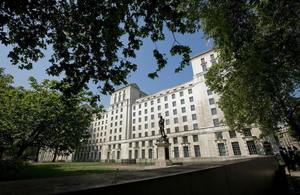 In what is only the second time that the regiment has performed public duties in the capital, the Royal Gibraltar Regiment (RG) took over from the Coldstream Guards at the famous Changing of the Guard ceremony at Buckingham Palace on Monday 16 April.
Fifty children from St Anne's Middle School in Gibraltar were amongst the huge crowd that gathered to watch the ceremony as the Royal Gibraltar Regiment Band led the regiment's detachment out of Wellington Barracks, in through the huge gates of Buckingham Palace, and onto the centre of the Palace forecourt where they were met by the cheers of the Gibraltar schoolchildren.
The RG's scarlet tunics were a perfect match for those of the waiting Guardsmen but their white Kitchener helmets were in sharp contrast to the black bearskins of the Old Guard.
In the group of VIPs watching from the edge of the forecourt was His Excellency The Governor of Gibraltar, Vice Admiral Sir Adrian Johns, and former Governors Field Marshal Sir John Chapple and Lord Luce.
Under the command of the Captain of the Queen's Guard, Major Ivor Lopez, the 40-minute drill parade was immaculate. Once the outgoing Guard had marched off, the RG detachment divided into two, with one half marching off with the regimental band to take up sentry duties outside nearby St James's Palace and the other half remaining at Buckingham Palace.
For the next two weeks, these two royal palaces, along with the Tower of London, will be guarded by the RG, only the second time that the regiment has performed these public duties in London:
We are delighted to be carrying out these prestigious duties at a time when London is the focus for so many high profile events," said the RG's Commanding Officer, Lieutenant Colonel Colin Risso.
And even though I am used to seeing the high standard of turnout and drill delivered by my soldiers, it was still impressive to see them take their place on the forecourt of Buckingham Palace this morning.
On Saturday 21 April, in addition to guarding the three palaces, members of the regiment's Headquarter Company will fire a spectacular 62-gun Royal Salute at the Tower of London, thus showcasing the regiment's unique heritage.
In 1991, its main role switched from artillery to infantry but it retains the ability (and the L118 Light Guns) to enable it to continue to fire ceremonial salutes.
Published 17 April 2012