Royal Gibraltar Regiment playing its part in Afghanistan
Members of the Royal Gibraltar Regiment are currently augmenting other units in Afghanistan and playing an important part in operations while other soldiers from the regiment have recently been training for potential deployments.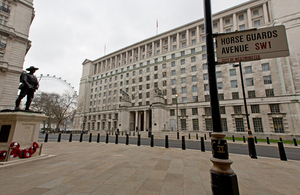 Amongst those members of the regiment currently serving in Afghanistan is Major David King who deployed to Helmand at the beginning of October and is working as a staff officer at HQ Task Force Helmand based in Lashkar Gah:
My job is going well," he said. "A couple of years ago, it became clear that more effort was needed if we were to win the 'hearts and minds' of the Afghan people and I work as part of a team whose task is to do just that.
I enjoy the work and I really cannot complain about my quality of life out here," Major King added. "As I'm at the main HQ, the food has the reputation of being the best food in Helmand province and we are provided with all the amenities we could wish for. Of course, I miss the family, although I do try to phone them every evening.
Also from the Royal Gibraltar Regiment and currently serving in Helmand province is Lieutenant John Pitto who is attached to 1st Battalion The Princess of Wales's Royal Regiment.
He is the commander in charge of a twelve-man group tasked with mentoring members of the Afghan National Civil Order Police. Lieutenant Pitto said:
This task is important in the lead-up to our extraction in 2014. Our main effort is now the mentoring of local troops in order to set the conditions to help NATO leave Afghanistan.
By then we expect Afghanistan's own security forces can cope with future threats themselves.
The key to successful transition is for us to accept that it must be an Afghan solution to an Afghan problem. This, at times, is difficult but we have done well to persevere with this principle.
Just back from Afghanistan is Colour Sergeant Grant Smith who has now returned to Gibraltar after a six-month tour of duty.
In Kabul he held the rank of Acting Warrant Officer Class 2 in order to carry out the duties of the Brigade Sergeant Major in the Non-Commisioned Officer Training Brigade. But, just to make things even more complicated, the job of Brigade Sergeant Major is normally filled by a Warrant Officer Class 1 (WO1) - so Colour Sergeant Smith was actually working two ranks above his normal role in the regiment.
Working for him were 115 instructors from a range of NATO countries, including the USA, Canada, Turkey and Romania, not to mention many more Afghan military instructors. And, during his time in the job, over 4,000 members of the Afghan National Army completed career courses under his control:
The tour was a fantastic experience," Colour Sergeant Smith said. "I have never worked with so many different nations before and, of course, I've never worked at WO1 level. In the past my experience has largely been within the regiment but, out in Afghanistan, I was operating at brigade level - indeed, I was helping to shape a whole army!
Colour Sergeant Smith's immediate boss was a British Brigadier so he had a direct chain to discuss his ideas with:
It was a really short chain of command and they trusted me, so I had huge scope for implementing my ideas," he added.
Meanwhile over 80 members of the Royal Gibraltar Regiment (RG) have recently been training for potential deployments to Afghanistan at the Longmoor Training Area in Hampshire.
The training area provides troops with the chance to be based in a realistic forward operating base (FOB), very similar to those used by British troops in Afghanistan.
After completing their mandatory weapon handling skills on the ranges at Hythe in Kent, the RG soldiers began the Longmoor phase with an 'internal security' training package in which they practised such skills as patrolling, manning vehicle checkpoints and searches. They then rehearsed their 'general war' drills, such as section and platoon attacks, before everything was brought together in a final three-day exercise.
Major Juri Williamson said:
Longmoor is a small training area but it has this FOB around which all our skills can be practised. And, as everything is in such a small area, no time is lost in travelling from one area to another so we get maximum benefit from being here.
Longmoor has the added benefit of being a new experience for all our soldiers as none of them has ever trained here before. This is new terrain so they need to adapt to the new conditions and think of new solutions to problems. Without this kind of training we wouldn't have the skills needed for deployments to Afghanistan.
Published 6 January 2012