Royal flies with naval reserves
His Royal Highness Prince Michael of Kent visited the Royal Naval Reserve (RNR) Air Branch on Thursday 27 September to see the role of the reserves in the Royal Navy's Fleet Air Arm at Royal Naval Air Station Yeovilton in Somerset.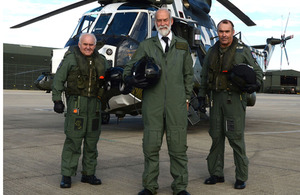 Visiting in his capacity as Honorary Rear Admiral Royal Naval Reserve and Commodore-in-Chief of the Maritime Reserve, His Royal Highness saw how the reservists, all of whom have completed a full career in the Royal Navy, continue to be involved in all aspects of naval flying operations both in the UK and abroad. Many are veterans of recent operations in the Middle East, and, further back, the Adriatic, Northern Ireland and the Falklands.
Prince Michael was met by Commander Justin Wood RNR, Head of the Air Branch, who briefed him on the changes in the Air Branch since his last visit in 2004 and on the plans for the Air Branch to develop within the overall expansion of the RNR.
Commander Wood commented:
We were delighted that Prince Michael should visit us again to see the Reserve effect over all areas of the Fleet Air Arm and in particular in Commando Helicopter operations.
The Air Branch is proud of its ethos of 'Experience in Reserve' and was able to show how that experience is a highly cost-effective multiplier of the Fleet Air Arm's capability.
Calling in on the Commando Helicopter Force, Prince Michael was introduced to the part-time reservists who are embedded with the regulars on a daily basis, enabling the Fleet Air Arm to achieve its outputs, including flying training and all aviation supporting roles.
He also flew a sortie in a Sea King Mk4 helicopter from 848 Naval Air Squadron - the Prince is a qualified military pilot and had a chance to act as a 'P2' - crewed by two reservists: Lieutenant Commander Ric Fox and Chief Petty Officer Aircrewman Andy Vanes, both of whom are current part-time flying instructors on the squadron.
As well as operating at Royal Naval Air Station (RNAS) Yeovilton, where 220 reservists are based, the Air Branch also has another 100 people, mostly at RNAS Culdrose in Cornwall.
Published 2 October 2012