Royal Fleet Auxiliary ship disrupts pirates
During a patrol of the waters between the Somali coast and the Seychelles yesterday, Sunday 14 November 2010, RFA Fort Victoria was alerted …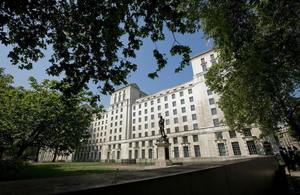 During a patrol of the waters between the Somali coast and the Seychelles yesterday, Sunday 14 November 2010, RFA Fort Victoria was alerted to a suspicious vessel in the area.
The ship intercepted the suspected pirate boat - which was identified as a whaler often used by pirates in the Indian Ocean - and sent armed members of the ship's company to investigate.
During a search of the vessel, ammunition and other piracy-related paraphernalia were discovered by the team.
Upon questioning, the suspected pirates admitted to having thrown their weapons overboard as the ship approached. They claimed to have been at sea for 45 days.
Their engines had failed, their food had run out and they were using their boarding ladder as a mast for a makeshift sail - their only means of propulsion.
The remainder of the piracy-related paraphernalia was confiscated and the pirates were subsequently returned to Somalia.
Captain Rob Dorey, Commanding Officer of RFA Fort Victoria, said:
The combined actions of all onboard have saved merchant ships from being pirated and made the area just a little safer today.

In many ways the pirates were lucky that we found them as they would not have survived indefinitely. However, most importantly, we have removed one more pirate group from the Somali Basin and destroyed their whaler so it cannot be used again.
RFA Fort Victoria is part of NATO's counter-piracy mission, Operation OCEAN SHIELD.
Published 15 November 2010