News story
Royal Engineers squadron receives Firmin Sword of Peace
Soldiers of 64 Works Group Royal Engineers have received the Firmin Sword of Peace at a civic reception held in their honour in Nottingham.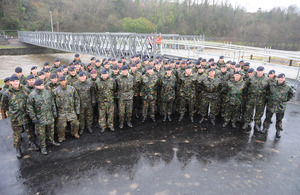 The Lord Mayor of Nottingham, Councillor Leon Unczur, hosted a civic reception at Nottingham Council House in the centre of the city to formally thank the soldiers for their work in the UK and Afghanistan and to present them with their Op HERRICK campaign medals. The squadron was also awarded the Firmin Sword of Peace for its work carried out in Cumbria in 2009.
Based at Chetwynd Barracks in Chilwell, 64 Works Group Royal Engineers (64 Wks Gp RE) is one of five groups that, together, form 170 (Infrastructure Support) Engineer Group. Comprising chartered engineers, garrison engineers and clerks of works, the soldiers returned home from Afghanistan in late November 2012.
Working in Camp Bastion and at forward operating bases across Helmand province, it has been a busy tour for 64 Wks Gp RE that saw them planning, developing and maintaining all infrastructure support to UK forces, including the airport, power networks and life support such as kitchens, hospitals and ablutions.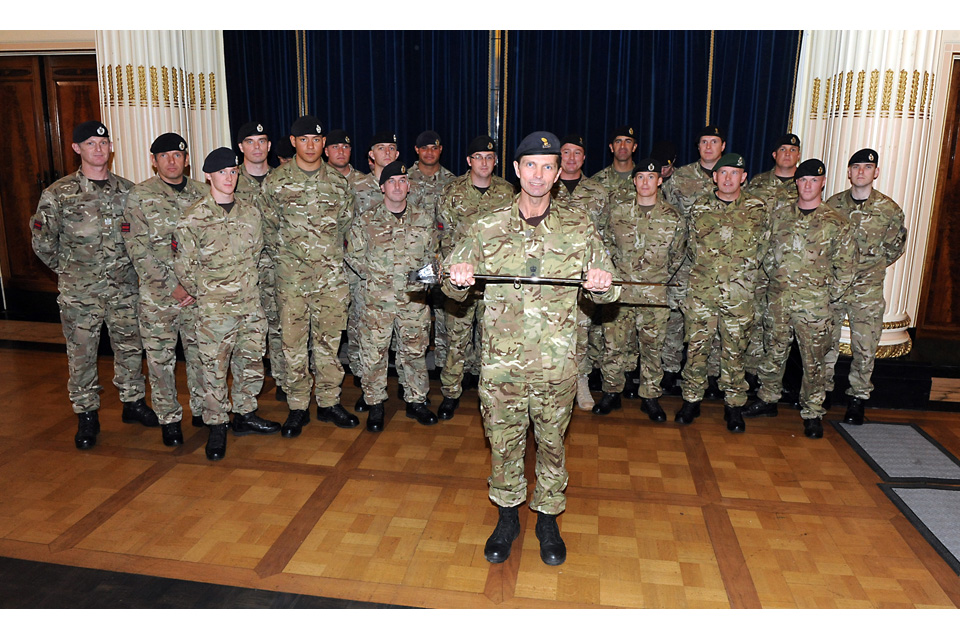 Another important part of the team's work was to develop the Afghans' own expertise so that they can plan, build and maintain their own infrastructure. A team from 64 Wks Gp RE also worked with the Provincial Reconstruction Team based at Lashkar Gah.
The team worked with the Afghanistan line ministries supporting and managing large and small infrastructure projects. Delivered by Afghan construction companies the work centred on highways, irrigation canals, government buildings, prisons and police training centres.
Lieutenant Colonel Tony Tait, the Commanding Officer of 64 Wks Gp RE, said:
We can look back on our time in Afghanistan with an immense sense of pride and achievement; as an organisation we really have delivered a significant amount in a relatively short timeframe and made a difference not only to our soldiers, sailors and airmen, but also the people and institutions of Afghanistan.
This latter aspect is particularly important, and through work with the Provincial Reconstruction Team we have delivered genuine lasting infrastructure and, more importantly, an embryonic and sustainable engineering capability for the Helmand regional government.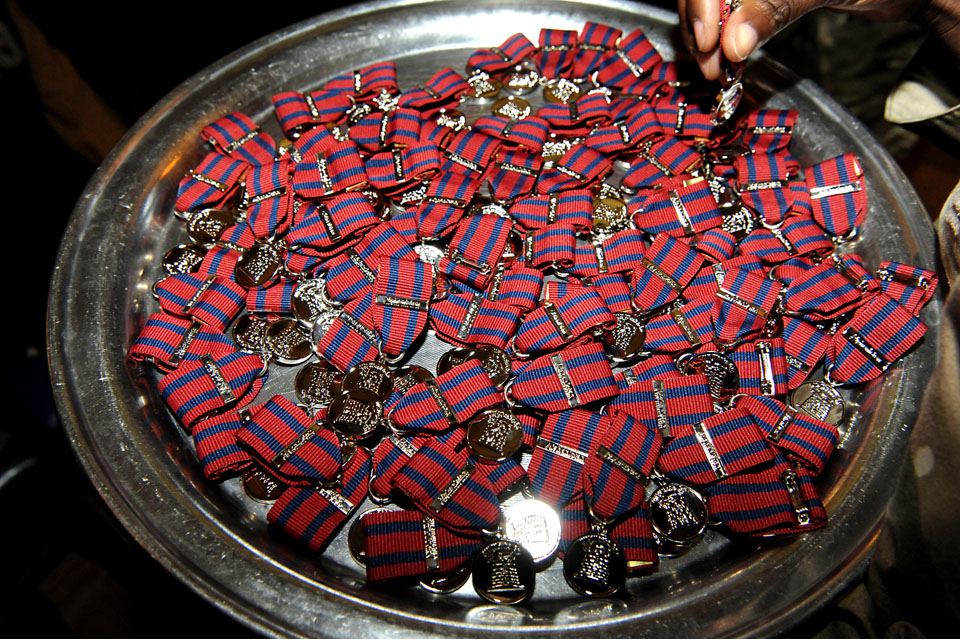 The Nottingham reception also saw 64 Wks Gp RE awarded the prestigious humanitarian award the Firmin Sword of Peace in recognition of their work to provide a temporary footbridge across the River Derwent in Workington, Cumbria, following the floods of 2009.
On Thursday 19 November 2009, unprecedented rainfall in Cumbria resulted in the rivers Cocker and Derwent flooding much of central Cockermouth. The next day, 20 November, tragedy struck when PC Bill Barker was swept to his death as the bridge at which he was stationed collapsed beneath him. Workington's other bridges also collapsed or were rendered unusable, leaving Workington a geographically-divided community.
At the request of the civilian authorities the military were mobilised in order to provide a rapid response. Coordinated by the regional brigade for North West England, 42 (North West) Brigade, it involved 64 Wks Gp RE who designed the bridge.
Other Army units which deployed soldiers in various numbers included:
3 Armoured Engineer Squadron, part of 22 Engineer Regiment, based in Tidworth
32 Signal Regiment, based in Glasgow
27 Transport Regiment RLC, based in Aldershot
9 Supply Regiment RLC, based in Hullavington
Royal Military Police
63 Medical Squadron, based in Preston
Headquarters 42 (North West) Brigade, based in Preston
4th Battalion The Duke of Lancaster's Regiment, North West England's TA infantry battalion.
In just under two weeks from the first Army engineer arriving on site, the bridge and its abutments had been designed, resourced and constructed.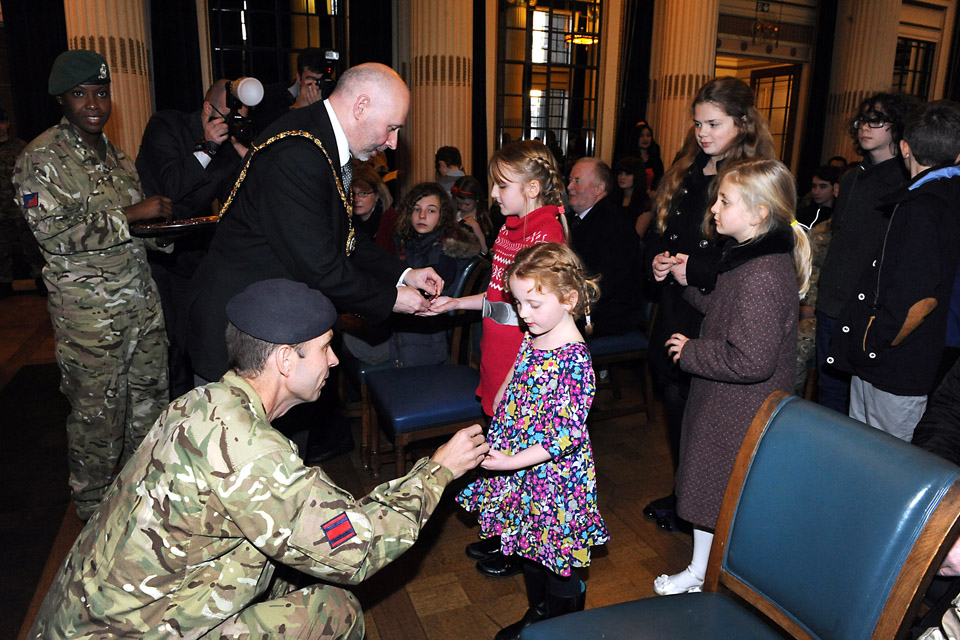 This was no mean feat; a complex engineering task completed against the clock and in the full public glare of both the media and the local community. The design work, logistics and construction effort, plus the wider stakeholder coordination to achieve this, was significant and should not be underestimated.
The effect that this bridge had on the community of Workington was profound. It did much more than reconnect a divided community; it lessened the economic impact on the town, enabled businesses and schools to function and negated an otherwise long car journey to get across the river. The bridge was named the Barker Crossing after PC Bill Barker and remained in use until February 2011 when, under the control of 64 Wks Gp RE, it was deconstructed.
The Firmin Sword of Peace citation read: 64 Works Group Royal Engineers displayed the highest professional standards in adversity and upheld the finest traditions and values expected of the British Army. It endeavoured tirelessly to provide support where it was needed most to the community of Workington and, in doing so, contributed to humanitarian activities and established friendly relations within a home community.
Published 5 December 2012