Royal Engineers learn ocean diving in Helmand desert
Sappers from 26 Engineer Regiment have been taking part in the first ever ocean divers course to be taught in the Afghan desert.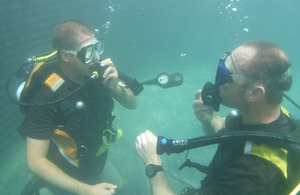 The ten students, none of whom have dived before, are being taught by Captain Mick Stewart at the Royal Engineer diver training facility in Camp Bastion. The three-metre-deep dive tank holds up to 70,000 litres of water and can accommodate two students at a time.
The Perham Down-based sappers will qualify as British Sub-Aqua Club (BSAC) ocean divers, and will be able to dive to depths of up to twenty metres after some top-up training in the UK. This course has the added benefit of giving the participants some light relief from their operational duties.
Captain Stewart explained why the course is so important:
Adventure training is an important part of military life. It gives soldiers a break from the norm and a chance to learn new skills," he said.
Many people think that scuba diving is floating around effortlessly in tropical reefs, which can be true in some cases but there are other benefits. The sport teaches teamwork, navigation, planning and briefing skills, all of which are key to good soldiering.
I saw the opportunity to run a course in Afghanistan to give the guys something different to focus on and provide a useful qualification which they can use both in and outside the Army.
Sapper Boyle, one of those under instruction, said of the course:
Doing the BSAC divers course out here is a really good way of getting a qualification while we have the opportunity. It is a good chance to do something different from our day-to-day tasks, especially in the current operational climate.
The course is very interesting and answers a lot of questions and explains myths that we had before the course.
The course has both theory and practical components that teach the students skills ranging from diving physiology through to essential safety drills. However, the dusty environment does mean that the diving equipment requires regular checks and maintenance.
The Royal Engineers maintain the Camp Bastion diver training facility in order to ensure that the military divers retain their currency throughout the operational tour.
26 Engineer Regiment has the only diving team in theatre that can be called out at short notice to complete search or recovery tasks. In fact one of the underwater lessons had to be cut short when Captain Stewart was called out with the rest of the dive team to perform an operational task.
Published 16 August 2012