Royal Engineers build Afghan police station
The station, built in Bolan-T, took three days to complete. It will house fifteen Afghan local police officers, part of the ALP initiative; …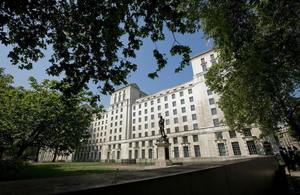 The station, built in Bolan-T, took three days to complete. It will house fifteen Afghan local police officers, part of the ALP initiative; a form of community based policing led by the Afghan Ministry of the Interior to provide local security against the insurgency.
ALP forces are requested by Afghan district governors and provincial governors and approved by the Afghan Ministry of Interior. ALP recruits are vetted, approved by local shuras and district police chiefs, and trained and mentored by the Afghan National Security Forces (ANSF) and International Security Assistance Force (ISAF).
Members of 59 Commando Squadron, part of 24 Commando Engineer Regiment, currently make up the Task Force Engineer Group in Helmand. Squadron Lieutenant Joe Robinson said:
This is the third police station we have completed in this area. The Afghan citizens in the area have been very helpful in assisting us in completing the station.
We are helping the Afghan Local Police to get up and running in small expeditionary policing for the local villagers.
The police stations assist the community with local problems, crimes, security and domestic disputes. The ALP work with the Afghan uniformed and national police to handle larger issues, and deny insurgents access to villages which they would otherwise intimidate. Lt Robinson added:
These guys [Afghan Local Police] are brave guys. They want to look after their community and families. They want to keep their people safe from insurgents. We are happy to do our part to make their area is safer for the Afghan people.
Published 2 August 2011