Royal Engineers are busy building Bastion
The UK's largest military base and centre of operations in Afghanistan, Camp Bastion, has doubled in size in the last year. See Related News…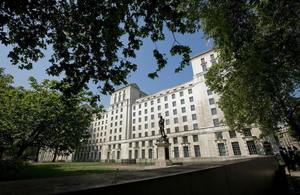 The UK's largest military base and centre of operations in Afghanistan, Camp Bastion, has doubled in size in the last year. See Related News to read more about this.
Colonel Angus Mathie, the officer in charge of running the base, says that he doesn't think the base is going to get much bigger than it is now, but with new facilities still being introduced, Royal Engineers deployed there are being kept very busy.
For starters, new areas of Afghan desert have been brought within the perimeter of the base and fenced off and secured for the development that is going ahead at a remarkable pace.
Lieutenant Colonel Andrew Honnor, the Royal Engineer in charge of the camp's many and varied construction projects, says:
From here you can almost touch the old perimeter. The new perimeter is out on the horizon.
His team has just built 20km of new fencing. The project was completed within three months despite being disrupted by nomadic desert residents with a penchant for scrap metal.
At the time, this must have been profoundly annoying, not to mention expensive:
We'd build the fence during the day and at night they'd come by on motorbikes or horses and take it away," says Lt Col Honnor. "They're still out there, over the horizon, but since we brought in guards, they've stayed away.
Steptoes of the desert notwithstanding, 35 square kilometres are now securely inside the well-defended cordon, creating room for development.
Explaining some of the new projects, Colonel Mathie says:
We're getting new training facilities ready for the next brigade, which arrives at the end of the year. There's a driver training area and some ranges to design, plus a mock Afghan village.

We're also building accommodation for the Counter-IED Task Force, and a new vehicle repair and servicing facility. The biggest project is the airfield, a new runway and air traffic control tower. When it's finished we'll be able to put our TriStar airliners straight in here instead of going to Kandahar, allowing us to get strategic air traffic into Bastion. That will be a big development for us.
The Royal Engineers are building the new permenant driver training area so soldiers arriving in Afghanistan can hone their heavy vehicle skills over ditches and sand hills inside the wire, before venturing outside:
It'll be the Tonka Toy playground of the desert," says Lt Col Honnor.
His Sappers are also preparing for the arrival of more helicopters:
They need somewhere to park and be serviced, and, of course, the crews and support staff need accommodation. We have to build that.
Bastion hospital is also being developed. It will soon have two new CT scanners, improved air-conditioning, new sterilisation facilities and a better power supply. A separate primary healthcare facility is planned, which will make room for further growth in the hospital:
We are developing projects at a rate that would be unheard of outside in the real world," says Lt Col Honnor.

Requirements come up for battle-winning stuff, and we develop it, secure funding and build it. Proving financial cases is one of our biggest challenges," he says.
But it helps that work is shared with the Americans, who operate from Camp Leatherneck next to Bastion.
The $850m airfield expansion is one example. The US are funding the runway while the UK takes on the control tower and related infrastructure.
There is similar co-operation on the new black-topped roads within Bastion.
Lt Col Honnor predicts that growth will soon come to an end:
I think we've almost got everything we need," he says. "The focus will then shift to maintaining what we've got.
Published 19 May 2010