Royal Engineer sets sights on Paralympics
Recovering in Headley Court from an improvised explosive device blast in Helmand in which he lost both legs, the London Paralympics must have…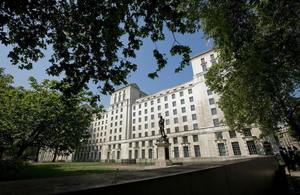 Recovering in Headley Court from an improvised explosive device blast in Helmand in which he lost both legs, the London Paralympics must have been far from Captain Nick Beighton's mind when it was mooted that he take part just 15 months ago.
However, a classic rowers' build made him a natural candidate for UK Sport's talent identification programme:
To an extent, adaptive rowing chose me," Captain Beighton said. "I was 6 feet 7 [2m] before I was injured and that's a physical attribute natural rowers need.
His journey is extraordinary. The Royal Engineers officer was injured on patrol in Afghanistan in October 2009. He was in a medically-induced coma for 13 days and woke up in Selly Oak Hospital in Birmingham. Now, he is a disabled athlete on the cusp of qualifying for the Paralympics:
My first objective was just getting up and about, walking and then doing the sports I enjoyed," he said. "When rowing came up, it was a case of improving. The Paralympics was always there and the Olympics are the pinnacle for most athletes.

Loads of guys are out there trying to achieve their best and if people find that inspirational then that's brilliant, but I don't do it for that purpose. I do it for my own rehabilitation, sanity, fitness and aspiration.
Explaining how he has got to where he is today, Captain Beighton said:
These things don't just happen by themselves. It takes a lot of hard effort both by me and everyone who has supported me. I appreciate that and often think back to how I was in the early days, how little I could do for myself, how weak I was, and where I am now.

But I don't rest on my laurels. I'm a forward-looking person and it's all about what I can achieve from here, not what I've done and how great it is.
He praises the Army for their support, particularly the medical staff at the Defence Medical Rehabilitation Centre at Headley Court:
You can't put a value on it really," he said. "It's critical and the job they do is phenomenal. The doctors and nurses at Selly Oak saved my life, then the physios and occupational therapists at Headley give me my life back.
Before injury, Captain Beighton, aged 30, had never rowed, though he was a passionate mountaineer, rock climber, skier and snowboarder. Adaptive rowing has now given him the confidence that he can achieve anything he sets his mind to.
With the Paralympics looming, his goal is to book his place in the Trunk and Arms Mixed Double Scull event, comprising a male-female pair in each boat:
My partner Sam Scowan and I have actually qualified the boat for the Paralympics by finishing in the top six at the World Rowing Championships in Bled last September. We now need to prove to the selector that we're the best crew for the boat. I beat my nearest competitor in a trial at the start of the year.
It's impossible to predict how selection will unfold but the upcoming competitions, including the Varese International Regatta in Italy in April, followed by the World Cup in May, are his best chance to convince the coaches and book a place in Team GB:
It's a once-in-a-lifetime opportunity isn't it?" Captain Beighton said. "The Olympics aren't going to come back to the UK while I'm competing and to think that two years ago I'd never have dreamed that this would be an opportunity is very exciting.
The Olympics and Paralympics have been promoted as one event, but the latter is a crowd-pleaser in its own right:
I've noticed that that was one of LOCOG's [London 2012 Organising Committee's] and the British Olympic Association's aims from the outset, to say this will be the most integrated Games ever," said Captain Beighton. "To shine the same limelight on the Paralympics reinforces the belief that we're all equally important in terms of achieving success for Great Britain.
With support growing by the day, more than a million tickets have been sold for the Paralympics:
Obviously they're not going to be all sat watching the rowing, but again it's brilliant," smiled Captain Beighton. "It's testimony to the fact that people aren't just interested in the Olympics but the Paralympics, and seeing British athletes do well. Adaptive sports have become so much more professional in the last few years and that's really reflected in the interest.
Captain Beighton's form means that he is heading towards the trials full of confidence. But he refuses to contemplate whether he'll quit after the Paralympics or set his sights on Rio 2016:
It's too far out to know," he said, adding that he will return to work after 2012 to decide whether he'll stay in or carry on rowing. "It's been such a quick transition from being injured to now that I've not really had time to think beyond London.
However, Captain Beighton is totally convinced that 2012 is the year that the Paralympics will have the greatest impact:
Definitely, especially in the British public's perception," he said, "because historically people didn't know much about the Paralympics, except maybe Dame Tanni Grey-Thompson. In London, we'll see much wider awareness of British athletes and what they're trying to achieve.

The thing is, Olympians who succeed have done so by their own effort, but people who get to the Paralympics have not only done that, but dealt with life-changing injuries to get to where they are. I think that message of inspiration of never giving up is very worthy and, if the Paralympics achieves that, that can only be good.
We need your help! We are trying out designs for a new single website for all of government and we'd love your feedback. Please visit the 'Government beta site' by clicking on the link under Related Links.
Published 16 March 2012