Royal couple visit UK naval personnel in Bahrain
Commodore-in-Chief of the RFA, Prince Edward and his wife toured submarine HMS Triumph and support ship RFA Diligence and dropped in on the …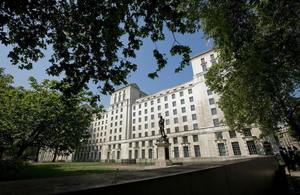 Commodore-in-Chief of the RFA, Prince Edward and his wife toured submarine HMS Triumph and support ship RFA Diligence and dropped in on the senior Royal Navy headquarters in the region, the United Kingdom Maritime Component Commander (UKMCC), during their stay in the small Gulf kingdom.
The Royal couple learned about Triumph's recent contribution to Operation ELLAMY off the coast of Libya, where the submarine was involved in the launch of Tomahawk missiles in support of the NATO mission to protect the Libyan population.
Having been served lunch literally 'fit for Royalty', a tour of the Diligence gave the Earl and Countess the opportunity to meet some of the crew and to see first hand how a RFA Ship differs from a normal Royal Navy vessel.
RFA Diligence's Chief Officer, Chris Mackenzie, said:
To have our Commander-in-Chief onboard Diligence is a rare privilege. The ship's company has worked very hard preparing for the visit and I know that they have all been looking forward to the day since it was confirmed.
Whilst touring HMS Triumph The Countess managed to get some 'hands on' tuition in the use of the submarine's periscope and also took great interest in the welfare of the families of those deployed away from home over Christmas.
Some of Triumph's personnel had their families joining them for the festive period and during a tour of the missile compartment, Lieutenant Commander David 'Bing' Crosby Royal Navy, Triumph's Executive Officer explained how his children were worried that their Christmas presents wouldn't get delivered to Bahrain. He commented:
I've told them to leave a note for Santa with their address here; I'm sure he'll find a way to deliver them.
That evening, the British Ambassador to the Kingdom of Bahrain, His Excellency Mr Iain Lindsay, hosted a reception for the royal couple, attended by Bahraini officials, servicemen and women based in Bahrain and local expatriates.
The Ambassador spoke of his admiration of the work the armed forces do in the Middle East and took the opportunity to present awards to Naval and RAF staff from UKMCC in recognition of their Security and Force Protection duties.
RAF Warrant Officer Ken Prentice, Force Protection Officer for the UKMCC, commented:
To receive this award at the end of my deployment is an honour. It has been a privilege to work with the Royal Navy for the past few months and to be recognised in this way is very humbling.
Published 3 January 2012