News story
Royal Assent for Northern Ireland (Miscellaneous Provisions) Act 2014
Legislation aimed at improving the way politics works in Northern Ireland today received Royal Assent. The Northern Ireland (Miscellaneous Provisions) Act makes a number of important changes.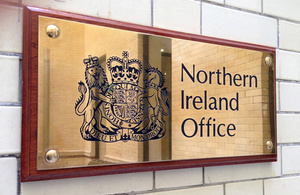 The Act will ensure politicians are no longer able to hold dual mandates in the Assembly, the House of Commons or the Dail. It also extends the term of the current Assembly by one year in line with the Scottish Parliament and Welsh Assembly, and allows the Assembly to reduce its size to five members per constituency – 90 members overall – if there is support across the community.
The Secretary of State, Rt Hon Theresa Villiers MP, said:
This legislation is an important milestone in the political settlement in Northern Ireland. It is the first piece of legislation for Northern Ireland in recent years that has not been rushed through to resolve a crisis, to deal with security, or to revive collapsed institutions. Rather, it is designed to improve how the democratic institutions in Northern Ireland function.
Although it does not contain provision to facilitate a formal opposition in the Assembly, that was much discussed during the passage of the Bill. The Government would welcome progress on this issue, consistent with the principles of power sharing and inclusivity which are at the heart of the Belfast Agreement. A formal opposition would improve the functioning of government in Northern Ireland and in holding the Executive to account. I hope the parties in the Assembly will give this careful thought.
The Act also includes provision for greater transparency on political donations and for modernising the way in which elections in Northern Ireland are run. It opens the way to the possible devolution of the Human Rights Commission and the Civil Service Commissioners for Northern Ireland, subject to full consultation and cross-community-agreement.
Published 13 March 2014