Royal Assent for Legal Aid, Sentencing and Punishment of Offenders Bill
The Government's radical plans to reduce reoffending, reform the legal aid system and tackle the growth of compensation culture can start to…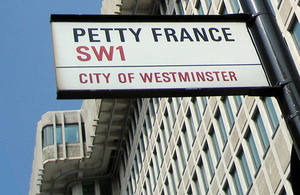 The Government's radical plans to reduce reoffending, reform the legal aid system and tackle the growth of compensation culture can start to be put into action following the granting of Royal Assent today for the Legal Aid, Sentencing and Punishment of Offenders Bill.
The passing of the Act means a wide range of improvements to the justice system can now go ahead. They include:
Creating a new offence of threatening people with a knife in public or at schools, with a mandatory prison sentence.
Criminalising squatting in people's homes and creating a new offence to appropriately punish drivers who seriously injury others by driving dangerously.
Changing the terms of no-win no-fee law suits to stop lawyers being able to double their fees through payments which have driven up insurance premiums and left local authorities, hospitals and businesses threatened by high legal costs. Banning referral fees will also help to stop middle-men making unreasonably high profits.
Focussing legal aid on cases where legal help is most needed, where people's life or liberty is at stake or they are at risk of serious physical harm, face immediate loss of their home or their children may be taken into care, and reducing the £2.1billion per year legal aid bill for England and Wales.
Justice Secretary Kenneth Clarke said:
'These reforms will strengthen our work to cut crime, protect the public and ensure taxpayers' money is being spent where it is most needed and most effective.
'The Act will fundamentally improve many areas of the justice system and start to tackle the shameful rate of reoffending in this country, as well as ensuring we have clear, tough prison sentences and suitable punishments for criminals who use knives to threaten others, ruin lives with dangerous driving or who squat in people's homes.'
The new Act will ensure England and Wales continues to have one of the most generous legal aid systems in the world. Legal aid will always be available in criminal and child care proceedings, and in some private family or civil cases, such as claims by victims of domestic violence against their former partners. But legal aid will no longer be available where legal help is not absolutely necessary - for example where foreign students want help to fill in visa applications, or where a landlord and tenant are arguing over routine maintenance. The Act aims to encourage people to take more responsibility for exploring the range of practical advice available to them to tackle problems early, rather than immediately taking legal action, which should be a last resort. Mediation, for example, can be cheaper, quicker, simpler and provide better outcomes for many people.
The Act will also reform the rules for no-win no-fee deals, so the cost and risk of taking on cases is more evenly balanced between claimants and defendants, and referral fees will be banned. The Act aims to stop the symptoms of a compensation culture where the public are facing increased insurance costs, and local authorities and firms are scared to go about their business, due to the high legal costs that widely advertised no-win no-fee deals can ramp up.
Justice Minister Jonathan Djanogly said:
'This Act ensures we will continue to have one of the most generous legal aid systems in the world, which together with no-win no-fee deals means that legal help is widely available for those who cannot afford a lawyer. It will help people to explore the range of practical advice available to them to tackle problems early, rather than immediately taking legal action.
'This Act will reduce lawyers' fees, which we all end up paying for through increased prices and insurance premiums. It will make legal costs fairer between people suing for compensation and the defendants, so that the defendants are not denied access to justice through fear of high legal costs.'
The Act also contains a number of new measures to protect the public and reduce reoffending. These include:
Creating tougher community sentences with longer curfews for offenders and bans on leaving the country.
Giving prosecutors the right to appeal against Crown Court bail decisions when they think the defendant could be dangerous, or might flee the country.
Clarifying the law around self-defence.
Reforming the Rehabilitation of Offenders Act, to help ex-offenders reintegrate into society after their sentences.
Creating a tough new sentencing regime to replace the inconsistent Imprisonment for Public Protection (IPP) sentence.
Doubling to 30 years the starting point for sentences for murders motivated by hate on grounds of disability or transgender - in line with other hate crime murders.
Justice Minister Crispin Blunt said:
'These reforms make clear our determination to protect the public in every area with effective services and tough punishments. Criminals will no longer be able to steal people's homes by squatting in them or threaten people with knives, without facing the prospect of a prison sentence.'
The measures in the Act will be enacted in stages over the next year.
Notes to editors
An overview of the Legal Aid, Sentencing and Punishment of Offenders Act

The full Act is available on legislation.gov.uk

Information about how the justice system works, how judges reach their sentencing decisions and how courts in each area are performing is available on the Open Justice

For more information, please call the Ministry of Justice press office on 020 3334 3536. Follow us on twitter @MoJGovUK.
Published 1 May 2012