Royal approval for Military Provost Staff
A Royal visitor has praised 'the hard and challenging work' of Military Provost Staff (MPS) soldiers who run the British Army's custodial facilities in the UK and on overseas operations.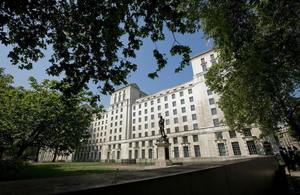 Her Royal Highness The Duchess of Gloucester visited the Military Corrective Training Centre (MCTC) in Colchester yesterday in her capacity as Deputy Colonel-in-Chief of the Adjutant General's Corps. The Duchess was briefed on the MPS' role and responsibilities, met soldiers and their families and toured the MCTC.
She was given a demonstration of processing a detainee into an operational custody facility, visited the craft shop where MCTC detainees learn woodworking skills and watched a display by the MCTC's team training for the Royal Navy Field Gun Competition.
The Duchess said:
I have had a very enjoyable and informative visit. I congratulate you all on the hard and challenging work you do here at the MCTC and on operations overseas.
There are just over 100 members of the MPS providing a professional custodial service to the British Army, operating the MCTC and detention facilities in Afghanistan, as well as giving custodial training to other countries' armies.
The MPS is due to expand in size as it takes on responsibility for the seven service custodial facilities across the country.
Welcoming the Duchess, Lieutenant Colonel Ian Logan, Commandant MCTC, said it was an 'honour' to update her on developments since her last visit in 1998:
It's important that we have occasions like this to gather the MPS family together, including veterans and the civil servants who work alongside us, as we look to the future.
Among those in attendance were three Chelsea Pensioners who had served with the Military Provost Staff Corps, which became the MPS on the formation of the Adjutant General's Corps in 1992.
James Nicholson, who served from 1955 to 1972, said:
We're still made to feel part of the MPS and it's nice to be invited back for special occasions like this. The MCTC is a completely different place now with much better facilities and a less strict and more supportive attitude to detainees. When I worked here it was wooden huts that dated back to when this was a prisoner of war camp.
Published 25 October 2012