Royal Anglian Soldiers get new homes for Christmas
Soldiers from the Royal Anglian Regiment raised the flag at their new barracks in Wiltshire for the first time earlier this month, just in time for Christmas.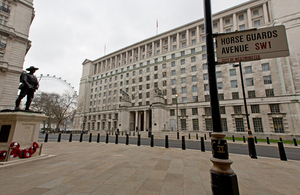 The men and women of the 1st Battalion the Royal Anglian Regiment ('The Vikings') have moved to brand new accommodation at Picton Barracks in Bulford, on the eastern edge of Salisbury Plain.
Commanding Officer, Lieutenant Colonel Michael Aston MC, said:
This is a special day for the battalion, it's great to be here and the soldiers and families are getting to know their way around the facilities of the garrison and Salisbury area.
The move has taken place during the busy training period building up to a potential tour in Afghanistan next summer. If deployed, the battalion will go to Helmand province as part of 12 Mechanised Brigade.
The battalion last went to Afghanistan in the winter of 2009/10, as part of 11 Light Brigade, also to Helmand Province.
The Tidworth and Bulford Garrison has been heavily invested in during recent years and the soldiers have moved into some of the most modern housing available to service personnel.
Private Robert Kedar of B Company said:
The rooms are pretty much amazing here, they are well-furnished and you have your own space. I've never had anything like it!
Published 22 December 2011