Royal Anglian soldiers boost Bermuda Regiment
Two members of the Royal Anglian Regiment are currently seconded to Bermuda where they are helping to train members of The Bermuda Regiment.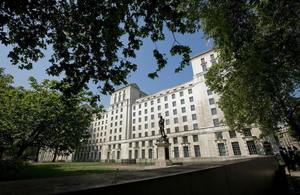 The Bermuda Regiment is a battalion-sized unit of around 600 part-time staff with a small full-time contingent. It is the home defence unit of the British Overseas Territory of Bermuda.
The secondment of the two Royal Anglian soldiers, paid for by the Government of Bermuda, is a direct result of an affiliation that goes right back to the First World War when the Bermuda Volunteer Rifle Corps sent men to serve in the trenches with The Lincolnshire Regiment, which eventually became part of what is now The Royal Anglian Regiment.
Heading up the training team is Major Phil Birch, who is currently working as The Bermuda Regiment's Staff Officer. He said:
With this shared history, we're delighted to assist the regiment fulfil its key roles today; supporting the Bermuda Police Service and undertaking post-disaster relief work at home and in the Caribbean region.
The regiment's profile has risen dramatically in the Caribbean region following deployments to assist in the Cayman Islands [2004], Grenada [2005] and the Turks and Caicos Islands [2008], and more recently in Bermuda itself for Hurricane Igor [2010].
The Bermudians are well used to post-hurricane operations but we are able to contribute wider operational experience which is not available locally.
It's great to know that The Royal Anglian Regiment is always asked to support The Bermuda Regiment due to our historical links.
As Bermuda is a British Overseas Territory, and defence is therefore the responsibility of the United Kingdom, The Bermuda Regiment is under the control of the Governor, Sir Richard Gozney, who is also the Commander-in-Chief. He said:
The elected Government of Bermuda is financially responsible for The Bermuda Regiment. The UK retains ultimate responsibility for the security of the island.
Its remote location means that, in a crisis, we would have to rely on our own resources until help arrived. I believe the regiment provides considerable reassurance to Bermuda.
Last November the regiment's disaster management work was also recognised by its Colonel-in-Chief, Her Royal Highness The Duchess of Gloucester, when she presented it with new colours.
In her speech, she referred to their:
special expertise in reacting to hurricanes which can visit this part of the planet and where a reliable body of men and women equipped with modern gear and communications are a vital support to an afflicted community.
The Bermuda Regiment is listed in the British Army Order of Battle as number 28 in order of precedence.
Published 19 January 2011