World news story
Royal Air Force team pleases thousands at Quebec air show
Appearance showcases close defence relationship between the UK and Canada.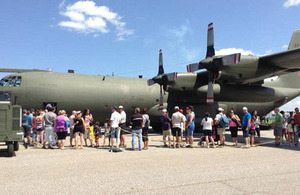 From 22 to 23 June, Royal Air Force (RAF) staff attended the Bagotville International Air Show in Quebec. The RAF contingent consisted of state of the art aircraft and 50 personnel.
Over the weekend, thousands lined-up for the chance to see the RAF Hercules C-130K and to have a rare glimpse of the RAF E-3D Sentry airborne early warning aircraft, otherwise known as the famous 'Eye in the Sky'.
The aircrew engaged with the crowds throughout the two day event and explained the close relationship that exists between the two air forces.
"Many of the team have worked operationally alongside their Canadian colleagues during recent conflicts and were able to explain how success in operations is forged by the close training relationship and the ever important cross pollination of great ideas between the two air forces," said Commander Mike O'Sullivan, Naval and Air Adviser at the British High Commission in Ottawa.
A highlight from the weekend was an up close of a squadron of the CF-18s performing a formation fly past. 38 RAF personnel currently work with the Royal Canadian Air Force.
The air show appearance capped off a month of busy training for the RAF in Canada. Over those four weeks members took part in Exercise Maple Flag in Cold Lake, Alberta, an annual exercise in which international participants engage in a simulated air campaign.
Using the vast, unrestricted airspace of northern Canada and more than 640 targets of the Cold Lake Air Weapons Range, allied participants engaged in daily missions that involved confronting and dealing with air and ground-based threats. Maple Flag provides the training so essential to NATO allies in ensuring success in recent operations like Afghanistan and Libya.
"It is a challenging exercise which tests the crews and aircraft to their limits," said Commander O'Sullivan.
"It was great therefore to finish off the RAF's Canadian deployment with a visit to Bagotville and let the Canadian people experience how closely the Royal Canadian Air Force and the Royal Air Force work together as allies," he added.
Lieutenant General Yvan Blondin, the Chief of the Royal Canadian Air Force, attended the air show and was grateful for the RAF's participation as well as their excellent efforts during Maple Flag.
Such visits by RAF members to Canada form an integral part of close relationship which exists between the two countries under the Canada-UK Joint Declaration.
Published 28 June 2013