Royal Air Force Search and Rescue winchman honoured for bravery
32 Royal Air Force personnel have been honoured in the latest Armed Forces Operational Awards for their bravery and service.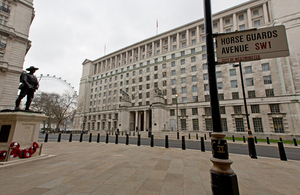 Amongst those honoured is Flight Sergeant Niall Hanson, aged 44, based at Chivenor in Devon, who has been awarded the Queen's Commendation for Bravery in the Air.
Flight Sergeant Hanson was the duty winchman when the Search and Rescue Sea King helicopter that he was serving on was sent to rescue a kayaker in difficulty on the River Dart.
Upon arriving it became clear that despite the fact that he was wearing a buoyancy jacket the kayaker was trapped beneath the surface of the water.
Flight Sergeant Hanson was winched 120 feet (37m) into the white water rapids which contained rocks and other hazards:
We arrived over a very steep-sided valley; there were lots of tall trees that had shed their leaves so we could see, and there was a thin lane where there were no trees," he said.

There was a particular group pointing at an area of white water in the river. The winch operator and I did a safety check; we identified that there was a blue triangle underwater that was the insignia on his [the kayaker's] jacket - he was being held underneath the water.

The tree canopy was a major issue so they could not get me near to the bank to have a look. Near the casualty we could see a small gap in the trees so the winch operator could winch me through that gap.

The emergency services had put a lifeline over the river which I could grab onto to stabilise myself. The plan was to put me into the water; I would then let go of the lifeline and be carried by the water to the casualty whilst still attached to the helicopter.