Royal Air Force officer recognised for improving Afghan Police training
32 Royal Air Force personnel have been honoured in the latest Armed Forces Operational Awards for their bravery and service.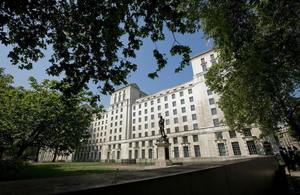 Squadron Leader Christopher Skaife, aged 34, from RAF Shawbury in Shropshire, has been awarded the Queen's Commendation for Valuable Service for his role as the lead for Afghan National Police training in southern Afghanistan, resulting in the training up and graduation of 73 extra police officers:
The concept that I wanted to introduce whenever I was working with or engaging with the Afghans was to get them to become self-sufficient and lead from the front," he said. "In order to do this they needed to be able to deliver their own training.

My biggest achievement was enhancing the relationship between General Zariffi, who was in charge of training in southern Afghanistan, and General Ehsas, who headed up police operations in the area as the zone commander. I wanted them to set up a link between the training and the operational force.

The way that I got round that was to encourage the generals to meet on a month-to-month basis; this would then go down the ranks and the others would see their commanders establishing a relationship and would therefore establish relationships between ops and training themselves.

The key thing was that this was an Afghan lead, therefore coalition presence was at a minimum. I would sit at the back and have no part in the meeting between the generals.

With a Romanian colleague I wrote a policy that enabled the Afghan Police trainers to gain a higher training qualification beyond basic level; this meant that we were able to set up the first officer training course outside Kabul and as a result we were able to graduate an extra 73 officers.

Receiving the honour has not sunk in yet. I am very humbled and thrilled. I think really for me it has capped off what I have found to be an enjoyable and rewarding tour working alongside the Afghans.

I thought exceptionally highly of Afghan non-commissioned officers and officers that I was working with as they genuinely wanted to improve and better their own reputation.
Published 2 October 2012