Route Trident extension helps bring prosperity to Helmand
The Route Trident extension has cut journey times between Lashkar Gah and Gereshk from two weeks to just two-and-a-half hours and seen insurgent…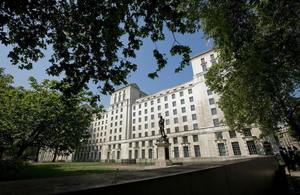 The Route Trident extension has cut journey times between Lashkar Gah and Gereshk from two weeks to just two-and-a-half hours and seen insurgent attacks drop by 90 per cent.
The construction of Route Trident, which began following Operation PANCHAI PALANG (Panther's Claw) in 2009, has involved five different battle groups and three successive engineer regiments.
The finished route spans more than 12 miles, across terrain ranging from desert to swamp. It crosses 43 separate water obstacles and is made of a surface resistant to the placing of improvised explosive devices.
With large sections of the route built amidst fierce fighting in insurgent contested areas, the construction has gone hand-in-hand with the clearance of insurgents from settlements all of which and are now being developed in partnership with local people. As a result, today the number of daily insurgent attacks along the route is 90 per cent lower than levels seen as recently as late 2010.
The Route Trident project - codenamed Operation LAR JAROWEL - had the original aim of linking the patrol bases and communities of territory gained in the major operations PANCHAI PALANG (Panther's Claw) in 2009 and MOSHTARAK ('Together' or 'Joint') in 2010.
Additionally, the intention was to link Helmand's two economic hubs, Lashkar Gah and Gereshk, in order to generate economic development of isolated agricultural communities between them.
Already, two significant local markets have sprung up along the route and many communities have, for the first time, taken advantage of the Afghan government's seed distribution scheme.
While significant technical skills of Royal Engineers have been employed, both in the design and construction of the road, local civilians have assisted the 'sappers' with some of the physical work. Organised as a 'cash for works' scheme, effort was made to employ workers from the nearest village to each section of the route in order to engender a sense of local ownership of the project.
Lieutenant Colonel Frazer Ross, Commanding Officer, 23 Engineer Regiment (Air Assault), said:
Primarily conceived as a military route, Route Trident has not only delivered security to the area, but also enabled economic and social development.
Major John Clark, Officer Commanding 9 Parachute Squadron RE, 23 Engineer Regiment (Air Assault), said:
This work has been dangerous, monotonous and challenging in equal measure. While frequently violent at the point of build, with up to six small-arms contacts on the road-building parties per day, it has left in its wake an area of security for the settlements straddling the route. It has also provided a secure base from which the ground-holding companies have been able to extend security into the hinterlands.

The nature of the ground - desert in places and swamp in others - presented a significant engineering challenge. A good example is the 'Culvert of Doom', where the road has been constructed over what could best be described as a 'swimming pool'. Challenges such as this have demanded innovative and pragmatic solutions that have stretched our technical expertise.
Published 15 April 2011