World news story
Roundtable for rehabilitation of women burn survivors in Delhi
Delhi state roundtable for rehabilitation of women burn survivors was held at India International Centre, Tuesday 17 January 2017.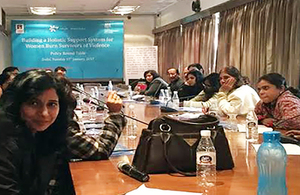 International Foundation for Crime Prevention and Victim Care (PCVC), a Chennai-based non-profit organization, backed by the British High Commission, facilitated a state-level round table in Delhi to address the need for a holistic support system for women burn survivors.
PCVC addresses all forms of violence against women, and has been running a flagship program in providing physical, psychosocial and economic rehabilitation for women burn survivors of domestic violence since 2003. Currently, PCVC has launched a four-state research project to identify support services available for rehabilitation of women burn survivors.
The key attendees of the roundtable were Dr. Tanu Jain, ADG, Directorate General of Health Services, Ministry of Health & Family Welfare, Ajay Verma, Director, International Bridges to Justice, Parul Malhotra, Senior Political Advisor, British High Commission in Delhi, Dr. Fraheen Mallick, Member, Delhi Commission for Women and Bhuvan Bhaskar, Director, Burns & Trauma Centre, Noida apart from researchers from PCVC.
The session started with a detailed presentation on the insights of the research for Delhi state. The research was conducted with data and series of interviews across 5 government hospitals in Delhi which have specialised burn wards - Ram Manohar Lohia Hospital, Lok Nayak Jai Hospital, G B Pant Hospital, Guru Teg Bahadur Hospital and Safdarjung Hospital. Interviewees include doctors, burn survivors, nursing officers, civil society organisations, police personnel and counsellors from government agencies.
The purpose of the research was to understand the extent of the problem, the systems available to manage the issue and the causes of the problem.
A few significant insights that emerged from the research are listed below:
the degree and severity of burns in women is much more than that of men and the pattern of burn also varies. In most cases of women, the degree of burns is more than 50% as a result of which excision of the burn area is not possible

not only is the severity of burns higher in women, the vulnerabilities they face post burns is also high owing to social structure and mindsets. Several women are abandoned by family members after the incident

the causes of burns in women are often stated as stove burst or LPG leakage or defective gas burner or carelessness by the woman. They are largely noted as kitchen accidents. However, the causes of burns in men are reported as accidents, which either take place because of his lack of knowledge in using a stove or burner, or accident at place of work
Doctors can often recognise if the burn is an accident or not. However, mostly in the statement recorded for the medico-legal case, women state that it is an accident. So, doctors are unsure if they should intervene in such situations. One of the doctors quoted a case as an example to this - 'a woman, who was 6 months pregnant was admitted in the hospital with 95% burns. She told the police the usual story of accident that she was in the kitchen and a 'diya' fell from top and her clothes caught fire. It was evident that this was not the case and that she was a subject of domestic violence. She died.'
all doctors who were interviewed recognised the need for holistic burn case support services. They agreed that a lot steps need to be taken in terms of post discharge physiotherapy, wound care and reintegration into the society.
The research report gave way for a lot of discussions. A few significant points that came out was the possibility of recording the case history multiple times (in the case of a woman burn survivor), in order to address the issue of recording the incident as an accident.
The research report was followed by a presentation on 'National Programme for Prevention of Burn Injuries' by Dr. Tanu Jain, which was followed by a discussion on the relevance, scope and opportunities for integrating psychosocial services within existing medical care services. She mentioned the plans to strengthen burn rehabilitative services across the country.
The discussions proceeded further to analyse the opportunities presented in the existing policy environment for support for women burn survivors.
The last session was an hour-long discussion on the way forward with recommendations to address ways in which psychosocial support services could be integrated in existing medical care services and the role of various stakeholders. The attendees also discussed ways to create a more inclusive burns registry to work as enabler for addressing psychosocial support services of women burn survivors and the inclusion of fire burn in existing legislations in India.
For more information, please email Rudy Fernandez or call on +91-9840340282.
Follow us on Twitter, Facebook, Flickr, Storify, Eventbrite, Blogs, Foursquare, Youtube, Instagram, Vine, Snapchat @UKinIndia, Periscope @UKinIndia
Published 18 January 2017