World news story
Round table in Astana on investment and migration legislation
British Embassy and National Chamber of Industry hold the round table on the issues of business migration on 31 July in Astana.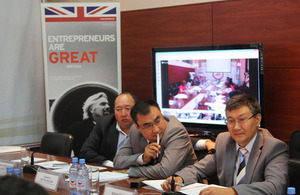 The round table "Legislation of the Republic of Kazakhstan on business migration: problems and ways of its improvement" was dedicated to discuss business immigration problems and develop recommendations for improvement of the existing legislation. It was hold by the National Chamber of Industry of the Republic of Kazakhstan under the financial support of the British Embassy in Kazakhstan. This event was a part of the project on Enhancement of the investment climate in Kazakhstan through improvement of investment and migration legislation.
During the meeting the foreign international practices in the sphere of business migration were presented and the current legislation of the Republic of Kazakhstan was considered. Representatives of the West-Kazakhstan region took a part in the discussion online.
Following the results of the mentioned round table the draft recommendation has been created and sent to the Majilis (the Lower House) of the Parliament of the Republic of Kazakhstan.
Published 5 August 2013