World news story
Round Table highlights growing ties between the UK and Mongolia
Important topics discussed at the Round Table include the Asia Europe Meeting and greater collaboration to tackle illegal wildlife trade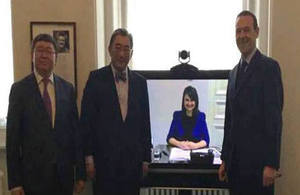 The 12th UK/Mongolia Round Table took place on March 11 in London.
The Permanent Under Secretary Simon McDonald welcomed Mongolian State Secretary Gankhuyag, thanking Mongolia for its support to global peacekeeping from Afghanistan to South Sudan. Mongolia has 40 years experience of Peacekeeping and Simon McDonald commended the Mongolian forces professionalism and reiterated the UK's commitment to strengthen Mongolia's capacity still further.
Secretary of State Ganhuyag thanked the UK for being the first Western Country to establish diplomatic relations with Mongolia; recognising that Mongolia is an important partner for the UK in North East Asia.
The Round Table covered preparations for this summer's Asia Europe Meeting (ASEM), to be held in Ulaanbaatar in July. Simon McDonald congratulated Mongolia on its election to the Human Rights Council, and the positive steps Mongolia has taken to conserve its unique environment. Potential areas for further collaboration between the UK and Mongolia on the illegal wildlife trade were also discussed.
The success of the UK's Chevening scholarship scheme highlighted the growing links between the UK and Mongolia, with both sides agreeing look for further opportunities for collaborative working on culture and education.
The UK and Mongolia noted that the signing of the underground phase of the Oyu Tolgoi Copper mine had sent a strong, positive signal to investors and agreed to strengthen still further economic ties between the UK and Mongolia.
Published 11 April 2016