Rollover of restrictive measures on Zimbabwe
Foreign Secretary William Hague has updated Parliament on the EU's decision to rollover the restrictive measures on Zimbabwe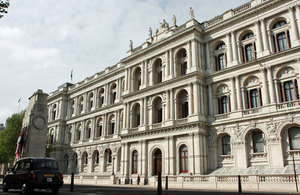 In a written statement to Parliament the Foreign Secretary said:
The EU has announced today its decision to roll over the Zimbabwe Restrictive and Appropriate Measures. Following an in-depth assessment the UK and its EU partners have unanimously agreed to the renewal of the Measures for a further twelve months, whilst removing 35 people from the list of those subject to an EU visa ban and asset freeze on the grounds that they are no longer involved in human rights abuses or undermining democracy or the rule of law.
Although this amendment reflects the progress made by the Government of Zimbabwe on economic issues and in delivering public services it also reflects our strong concern that this has not been matched by equivalent political and democratic reform. Essential reforms to promote the rule of law, human rights and democracy, as agreed under the Global Political Agreement, have not yet been implemented. We are particularly concerned at the upsurge in political violence and intimidation in recent weeks. We have, therefore, extended the travel restrictions and asset freeze applicable to the remaining163 people and 31 economic entities for a further 12 months. The arms embargo remains in place and EU and UK bilateral development aid will continue to be channelled directly to the people of Zimbabwe through the UN and Non State Actors, rather than through the Government of Zimbabwe.
The UK and our EU partners emphasise our willingness to revisit the Measures at any time should there be further concrete developments on the ground in Zimbabwe. In this context, we fully support the Southern African Development Community and its member states in their effort to facilitate agreement amongst the parties in Zimbabwe on creating an environment conducive to the holding of free and fair elections.
Britain remains a committed friend to the people of Zimbabwe. We gave our largest ever aid package to Zimbabwe last year and the DFID Secretary of State recently signalled that the UK would significantly increase its development effort in Zimbabwe over the next four years if there are free and fair elections and a reforming government in place.
Published 16 February 2011