Roll up for the British Military Tournament
Following last year's successful debut, the Tournament will take place this year from 2 to 4 December, with Her Majesty The Queen attending …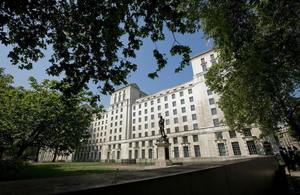 Following last year's successful debut, the Tournament will take place this year from 2 to 4 December, with Her Majesty The Queen attending tonight's show.
It brings together all of the best elements of the world-famous Royal Tournament into a new show fit for the 21st century which involves 1,400 participants, 1,000 tonnes of soil, military vehicles, 88 stables and a British Army Apache helicopter.
The two-hour show, narrated live by actor Anthony Andrews, tells the 250-year military history of 'the special relationship' between the UK and the USA.
The storyline goes all the way back to the American Civil War but is brought bang up-to-date to show how the allies are working 'shoulder to shoulder' in Afghanistan.
Lieutenant Dan Neale from the Royal Navy serves with the Military Stabilisation Support Group, a tri-Service unit that liaises between the military and local civilians, assisting countries emerging from violent conflicts.
He returned from Afghanistan in April. In the show, Lieutenant Neale will be 'acting' a theatricalised version of his day job:
I will be in a shura with the governors and showing how they talk to the locals.
The show will be performed by troops from the UK and US Armed Forces, in addition to 100 horses, and includes the Field Gun Run, the Royal Signals White Helmets motorcycle display team, the King's Troop Royal Horse Artillery and massed bands.
Lance Corporal James Cotterill is an outside rider with the famous White Helmets motorcycle display team. He said:
It is my first Tournament and I am very excited to be here. It is different, and to be performing in front of royalty makes it even more special.
Remarkably, Lance Corporal Cotterill had never ridden a motorbike until he joined the White Helmets in 2007:
It is exciting and exhilarating. I like bikes so much now, my 'work' has become more of a hobby than a job," he said.
Lance Corporal Cotterill rides a Triumph Tiger 750 and, in one of the show's most heart-stopping moments, the team split off into two formations and ride backwards, criss-crossing the arena at top speed, only narrowly avoiding collision, throwing up clouds of sand and sawdust, with the stench of petrol filling the arena.
At a media preview, just 24 hours before curtain-up, one bike performed a 'tableau' where ten people executed a fantail formation, hanging backwards off the bike, as their heads whizzed perilously inches from the ground:
It isn't too dangerous because we train very slowly and build speed up from scratch," said Lance Corporal Cotterill. "But we do get some very close moments. We don't learn how to drive, we learn how not to fall off.
Another tense moment is when the White Helmets skim the four corners of the arena in a pyramid formation with a lone rider perched precariously on top.
This is topped only when a solo rider returns to the arena and accelerates in a 'wheelie', speeding up a ramp and soaring over three iconic red, white and blue Mini cars. The dozen-strong team demonstrate extraordinary balance, verve and masterful bike control combined with an athletic, balletic grace.
Corporal John Rees also performs in the White Helmets team. He particularly enjoys pulling off a complex 'hanging ladder' manoeuvre where he sits astride his motorbike backwards and rides it while a fellow rider climbs a ladder attached to the bike before hanging off:
When you first learn it, all you can think is that you don't want to crash. But if you get complacent, that is when you can go into autopilot and accidents can happen.
Horses are a beloved feature of any military pageant and the British Military Tournament is no exception. Corporal of Horse Carl Scholes serves with the Household Cavalry Mounted Regiment's Blues and Royals.
Tonight, the 'stunt jumper' will jump over a dinner table while a sole diner eats dinner. But perhaps the real highlight of the show is when he charges his horse Gustavous through a ring of fire, all in front of an 11,000-strong crowd.
Although a seasoned performer, Corporal of Horse Scholes said:
Horses are massively aware; if there is anything they see as a threat they combine three-quarters-of-a-tonne of muscle and there will be nothing I can do to stop it. A horse's confidence will stem from its rider, so it's imperative that I stay relaxed.

My nightmare would be a strong smell of singed hair as I ride out of the arena bald!" he joked.
The old Royal Tournament was axed in 1999, widely branded as outdated. But the new show has retained some of the old Tournament's most iconic features, including the show's famous Field Gun competition, which will be keenly fought by personnel from Wellington College following 5,000 man-hours of training.
Music will also feature throughout the show.
Corporal Hannah I'Anson is a musician in the Central Band of the Royal Air Force, based at RAF Northolt. During her career she has played at the Cenotaph, Changing the Guard, the Lord Mayor's Show and a royal dinner at St James's Palace.
In the Tournament, Corporal I'Anson will play clarinet and cannot wait to perform in the RAF's opening First World War sequence and grand finale, playing 'Those Magnificent Men in their Flying Machines':
I'm really looking forward to it," she said. "I came here as a child and it's really nice to know that it has been adapted for a new audience and that I get to experience it from a military point of view rather than a civilian.

I'm sure I'll have some nerves but I always say that if you don't have a few nerves, you're not really alive!
Flying in especially for the Tournament is a British Army Apache helicopter, which will sit at the heart of the giant military-themed exhibition area within Earls Court.
Free to all ticket-holders, the exhibition opens two hours prior to the performance each day to allow visitors the chance to enjoy everything on offer. The exhibition also provides the opportunity to meet troops from all three Services and to see the latest military kit.
As well as the Apache, exhibition highlights include an interactive RAF Chinook experience; two Royal Aeronautical Society/Boeing schools 'Build a Plane Challenge' aircraft; the Army activity zone with its assault course, climbing wall, laser shoot and paintball range; a Typhoon aircraft cockpit simulator; and military vehicles, book-signings by military authors and an opportunity to meet RAF and Army pilots.
President of Boeing UK (prime sponsor of the show), Sir Roger Bone, said:
This is a fantastic show. I remember coming as a child to the Royal Tournament many years ago and it is terrific to be part of its revival.

If you're thinking of coming, just come. It doesn't need to be sold to the older generation who will remember it from years ago, but to the younger generation - it is just a spectacular show.
The British Military Tournament will raise funds for three Armed Forces charities: ABF The Soldier's Charity, the Royal Navy and Royal Marines Charity and the RAF Benevolent Fund.
Tickets start from £29.75 with concessions for children and wheelchair users. Visit the website at** **Related Links, or contact Ticketmaster on 0844 248 5026 or the Earls Court Box Office on 0870 903 9033.
Published 2 December 2011