News story
Rock fall at Oxwich beach in Wales
Coastguard has advised the public to avoid the coastal path and base of the cliff between Oxwich Church and Oxwich Point at Oxwich Beach after a rock fall.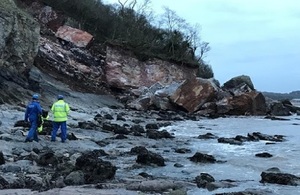 Milford Haven coastguard operations centre received a call from South Wales police at 3pm today reporting a substantial rock fall at Oxwich Bay beach, along the coastline towards Oxwich Point. Police and Oxwich and Rhossili coastguard rescue teams attended to keep nearby members of the public safe and to cordon the area off to prevent anyone unknowingly putting themselves in danger.
The photograph taken by Oxwich and Rhossili coastguard rescue teams, shows one part of the fall which has slid down the cliff as a block, with trees remaining on the top.
The size of the fall is estimated to cover an area of 30 metres by 30 metres and is reportedly larger than a previous significant rock fall in 2009 in the same area. The local council, natural resources Wales and the landowners have also been informed.
Published 9 January 2019