Press release
Roadworkers reach safety milestone
Highway's England has reached a significant milestone in road worker safety. The Yorkshire and North East region's maintenance team has clocked more than 4 million hours worked without a reportable accident during the last 2 years.
This news article was withdrawn on
This press release is no longer current.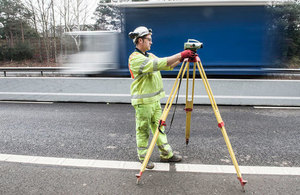 Highways England contractor A-one+ employs over 600 staff, who are supported by a large collaboration of supply chain workers across 945 miles of motorways and roads. These workers confront daily health and safety challenges working on some of the regions busiest roads.
This milestone is an important part of the Highway's England 'aiming for zero' health and safety initiative. The initiative's goal is that nobody comes to harm as a result of working for, or in partnership with, the organisation – whether that's working on the road network itself or people who work in the various offices around the region.
A-one+ also delivers major engineering projects on behalf of Highways England, including the recent scheme to replace the existing central reservation safety barrier at the M1 Tinsley Viaduct - one of the largest and most complex structures on the network.
A number of initiatives have helped secure the milestone which includes putting in safety measures to stop staff having to cross carriageways to put road works in place, and installing CCTV on traffic management vehicles.
Highways England Service Delivery Team Leader, Roger Wantling, said:
We're very proud of our safety record in the region which wouldn't have been possible without the diligence of our suppliers. It's testament to the hard work, and professionalism shown by our staff, contractors and supply chain colleagues and we'll continue to work with them to ensure that safety remains our top priority.
Highways England supplier Colas has been closely involved with these safety initiatives. Colas Director, John Thompson said:
This is an outstanding achievement by everyone connected with A-one+. This excellent achievement shows we are getting there with the gradual cultural change and that safety is everyone's priority.
General enquiries
Members of the public should contact the Highways England customer contact centre on 0300 123 5000.
Media enquiries
Journalists should contact the Highways England press office on 0844 693 1448 and use the menu to speak to the most appropriate press officer.
Published 3 June 2015