News story
Roads Minister cuts turf on £61 million Gateshead A1 road scheme
Roads Minister John Hayes has broken new ground to mark the start of work on the £61 million improvement scheme to the A1.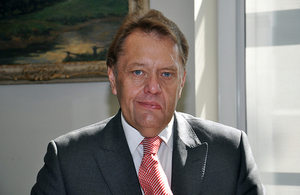 John Hayes took part in a short turf-cutting ceremony to mark the start of work of the 3.98 mile stretch of the Coal House to Metro Centre scheme near Gateshead today (11 September 2014).
The improvements will increase the lane capacity from 2 to 3 lanes in each direction. There will also be new parallel link roads between the Lobley Hill and Gateshead Quay (A184) junctions to cut congestion.
The government first announced funding for extra capacity on the A1 in 2012 and in April it announced it would be able to finance an extra 3.05 miles. The extension was made possible through £19 million savings identified in the design phase of the original scheme, with the Department for Transport agreeing to reinvest these savings into the north east.
This means the Western Bypass will be improved from the Coal House junction all the way up to the Metro Centre junction, rather than just from Lobley Hill to Dunston as previously planned.
John Hayes said:
The A1 is a crucial link between the north east, Scotland and the south and this work will cut congestion and improve journey times so it is a great pleasure to be here to mark the start of this scheme.

This government is making a record £24 billion investment into our major roads and motorways – this equates to an annual tripling of funding over the next 6 years. "We are unlocking the economy around the country and the fact we have been able to expand improvements to the A1 is a powerful demonstration of that.
The scheme is expected to be fully open to traffic in spring 2016. Further improvement work in the north east includes two major improvement schemes to the A19. The government is conducting feasibility studies to identifying solutions to the A1 North of Newcastle and the A1 Newcastle Gateshead Western Bypass which will be presented this autumn.
Full details of the all planned major road schemes are available at the Highways Agency website at www.highways.gov.uk
Roads media enquiries
Press enquiries 020 7944 3021
Out of hours 020 7944 4292
Switchboard 0300 330 3000
Published 11 September 2014