Press release
Road freight industry encouraged to get benefit of trailer trial
The longer semi-trailers trial is being opened up to allow operators to participate on a first come first serve basis.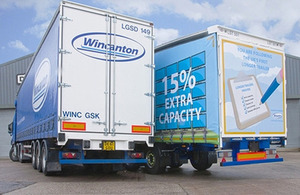 More freight operators will be given the chance to join a 10-year trial enabling them to use longer goods vehicles on UK roads, Transport Minister Stephen Hammond announced today (13 September 2013).
When it was launched in 2012, the government's longer semi-trailer trial enabled freight operators to bid for a share of 1,800 vehicle allocations, but so far around 1,250 allocations remain unused.
The changes, which follow a 4 week consultation, mean unused allocations will be made available for other operators who are not in the trial.
Stephen Hammond said:
Freight operators play a crucial role in ensuring the wheels of our economy remain well-oiled by supporting UK trade and industry and transporting the goods we need.

Longer semi-trailers enable freight companies to transport more goods, more efficiently, and should give significant economic and environmental benefits. We want to maximise their use during the trial to ensure we properly assess the benefits.
Jack Semple Director of Policy at the Road Haulage Association (RHA) said:
Strong demand for permits has been evident from members across the industry, not least from enquiries to the online permit exchange service that the RHA has operated since the initial allocation. We welcome this new permit availability, both for existing operators and for those who wish to use longer trailers for the first time.
James Hookham, the Freight Transport Association's (FTA) Managing Director for Policy and Communications, said:
The FTA supports the trial of longer semi-trailers, as there are significant environmental and efficiency benefits on offer from deploying these vehicles. This is not a vehicle for all sectors and will be most beneficial on journeys where the goods carried are high volume, low weight as vehicle fill can be improved.

The revised re-allocation process will allow those operators who can put these trailers into use on work for which they are suitable to obtain permits in a more timely manner, thus securing an essential contribution to industry's carbon reduction programme.
The consultation responses have been published on GOV.UK.
Roads media enquiries
Media enquiries 020 7944 3021
Out of hours media enquiries 020 7944 4292
Switchboard 0300 330 3000
Published 13 September 2013