RNAS Culdrose team deploys on counter-piracy operation
A team from Royal Naval Air Station (RNAS) Culdrose has deployed to the Indian Ocean to join the fight against piracy, people-trafficking and drugs.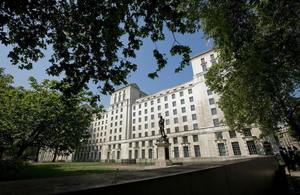 Home for the next six months for the aircrew and engineers from 829 Naval Air Squadron and their Merlin helicopter is HMS Sutherland.
Serving on Operation KIPION, the ship will come under multinational tasking within the Indian Ocean, the Gulf of Oman and the Gulf.
As part of her duties, HMS Sutherland will assist in counter-piracy operations within the area as well as surveillance for counter-drug, people and weapon trafficking.
HMS Sutherland's Merlin flight is headed by Lieutenant Earl Kingston, who is accompanied by another pilot, an observer, an aircrewman, nine engineers and two Royal Marines, who will act as the aircraft's sniper team.
The flight has been undertaking a 'work-up' period with the ship since February. Starting with the basics of flying operations combined with exercise fires, floods and simulated hostile attacks, before building to complex multi-asset, full scale conflicts, disaster relief training, and scenarios similar to those expected within the operational environment.
Separately, the flight has also been carrying out weapon and survival training, as well as theatre-specific flying training, both airborne and in the simulator back at Culdrose.
Lieutenant Kingston said:
It has been a very busy and very testing couple of months, for both flight and ship. But we are now in a position to deploy and we are ready to carry out any tasking required of us.
The flight will relieve another Culdrose-based flight on board HMS Westminster as she returns from her deployment in the Gulf.
As one of Europe's largest helicopter bases, RNAS Culdrose delivers highly-capable helicopter squadrons specialising in anti-submarine warfare, anti-surface warfare and airborne surveillance and control. Its front line squadrons are deployed to ships all over the world to support the Royal Navy in its global operations.
Please tell us what you think about government news on the web by filling in the short survey at Related Links.
Published 9 July 2012