RNAS Culdrose gives 'The One Show' an Olympic challenge
The One Show's 'Olympic Flame Special' will come live from the end of a runway at the Naval Air Station on Friday 18 May. In preparation for…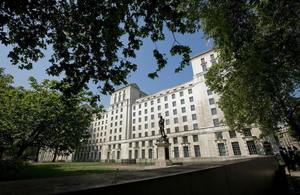 The One Show's 'Olympic Flame Special' will come live from the end of a runway at the Naval Air Station on Friday 18 May.
In preparation for this Friday's programme, Culdrose put Alex and Sally through an Olympic-style challenge, including the types of training that naval personnel go through before being deployed to the front line.
The pair learnt about life in the Fleet Air Arm, the Royal Navy's Flying Force, and found the going very tough and very wet. You can watch the programme on BBC One at 1900hrs on Friday to find out who came out on top.
Alex and Sally competed against each other in a series of challenges including:
• the Rat Run - used by Royal Navy sailors for fire incident training. The claustrophobic maze of 75cm square cages represents access into a burning ship, aircraft or building.
• aircraft marshalling - how to move 15-tonne Merlin and Sea King helicopters onto flight decks by marshalling pilots with hand signals. Real Royal Navy flight deck operators do this in all types of conditions with the ship pitching and rolling too.
• life raft challenge - should an aircraft encounter trouble and the crew be forced to ditch into the ocean, miles from land, they have the equipment on board to save their lives. Sally and Alex had to use inflatable life rafts and swim to safety.
Chris Evans and Alex Jones will host the special hour-long One Show outside broadcast as the Olympic Flame arrives in the UK from Athens on a golden aircraft. The programme will 'simulcast' with the BBC News Channel from 1930hrs for the Torch Arrival Ceremony.
The Olympic Flame will be accompanied by Lord Coe plus some very special guests.
The BBC News Channel's Sophie Raworth will interview Lord Coe and the special guests before the flame is transferred to a cauldron.
The One Show has already started building a studio at the end of the main runway at Royal Naval Air Station Culdrose for this momentous occasion.
Presenters Chris and Alex will be joined by a surprise celebrity guest and Lucy Siegle will be in the Culdrose Air Traffic Control Tower as the flame arrives.
Also featuring will be some former Olympians and local torchbearers, with members of the local community scattered throughout the audience.
Published 16 May 2012