RN ships deploy as part of new amphibious task group
HMS Albion, HMS Sutherland and RFA Cardigan Bay, together with elements of 40 Commando Royal Marines, have set sail this week as the lead element of the Cougar 11 deployment to the Mediterranean and Middle East.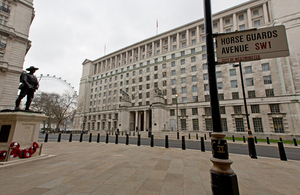 The ships are sailing from HM Naval Base Devonport in Plymouth, and Marchwood in Southampton, between 6 and 8 April.
This deployment is not linked to events in Libya, which involve other elements of the UK Armed Forces.
Their long-planned deployment is part of the Royal Navy's Response Force Task Group (RFTG) which will see them transit through the Mediterranean where they will take part in multinational amphibious exercises before moving further east through the Suez Canal for further exercises in the Indian Ocean.
The RFTG is a new initiative announced in last year's Strategic Defence and Security Review and is at the heart of the UK's maritime contingent capability, held at very high readiness to respond to unexpected global events.
The ships and their embarked Royal Marines are deploying on Cougar 11 to develop and demonstrate contingent capability for UK defence - in effect, the ability to respond to short-notice tasking across a diverse range of defence activities such as disaster relief, humanitarian aid or amphibious operations.
All of these are capabilities that are regularly required of a versatile maritime force.
The deployment is being commanded from the fleet flagship, HMS Albion, by Commodore John Kingwell, Commander Amphibious Task Group.
He said:
Cougar 11 is an important opportunity to develop international interoperability and build long-term defence relationships, and for the RFTG to demonstrate operational contingent capability.

It is a great privilege to lead such a versatile force and I thank all those ashore who have worked so hard over the last week to make this possible.
The ships are planning to be away for up to six months and have spent the last week preparing to sail, taking on sufficient stores and provisions to enable self-sustaining operations at sea.
Published 7 April 2011