RMP soldier takes policing skills to Afghanistan
As the 1st Battalion Scots Guards work to keep traffic flowing on the strategically important Route 601 in Helmand, Lance Corporal Matthew Ellis of 150 Provost Company, Royal Military Police (RMP), is providing policing expertise.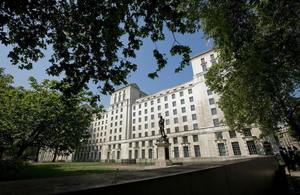 Lance Corporal Ellis is currently serving with B Company, 1st Battalion Scots Guards, near Lashkar Gah in Helmand province, providing policing support as B Company, working jointly with Afghan security forces, has been pushing back insurgents from Route 601 to keep traffic moving along the key access road in central Helmand.
Lance Corporal Ellis explained:
My job role is to provide provost support for the battle group. I'm the subject matter expert for detention, stop and search, and evidence collection. If a need arises where a detainee is taken I can provide advice and guidance on how that works so from a legal perspective they're covered.
I also provide training for the Afghan National Police [ANP] and for any of the Scots Guards who require it.
Based in a patrol base halfway along the road, Lance Corporal Ellis regularly patrols both on foot and in Mastiff and Jackal armoured vehicles with his infantry colleagues to ensure that no IEDs or blockages are present on the road or in the surrounding area.
Daily checks include inspecting culverts along the route, setting up vehicle checkpoints to ensure that the Taliban are not using the road as a supply route, and working with the ANP to deal with breakdowns and the occasional road traffic accident.
Lance Corporal Ellis said:
The kit that we go out on the ground with includes a patrol camera as quite a lot of our evidence is visual because it holds up well in an Afghan court. We're trying to put the Afghans on their own footing, let them do the job to their best ability, and they like visual things more than anything else.
We also have a specific camera which is used to gather biometrics, retinal scans and fingerprints that are recorded on a database, as well as sprays to determine if anyone has been handling explosives, evidence bags, plasticuffs and rubber gloves just to make sure no-one goes without just in case they need the kit.
As well as carrying out police duties on the ground, Lance Corporal Ellis spends a lot of his time teaching both UK soldiers and the ANP:
We teach them [the Scots Guards] how to stop and search somebody… what the best evidence is, what's good evidence, what to take, how to detain someone, what we require legally for them to do.
As far as the Afghan National Police goes we advise and monitor rather than say you do this, you do that. They are trained to a reasonable high standard already so not much training is required out here," he continued.
As Lance Corporal Ellis nears the end of his tour he is looking forward to the comforts of home:
When I get back to the UK I'm just looking forward to normality. Not having to get up in the middle of the night to do sentry, eating what I want, watching what I want, and getting up when I want for a little bit before going back to my normal job.
Published 23 August 2010