RMP prepare for Afghan investigations
Royal Military Police (RMP) are being put through an arduous Crime Scene Investigation (CSI) course to prepare them not only for domestic investigations but also for the increased likelihood of them being deployed to Afghanistan.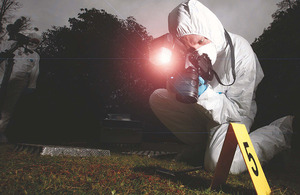 The training required for a detective to be able to spot microscopic evidence in chaotic surroundings is arduous, but experts from the Royal Military Police are moving to the top of the class by utilising some of Britain's best facilities at the Defence College of Policing and Guarding (DCPG) at Southwick Park in Hampshire.
Tucked away in a corner of the facility is the Galton building - home to photographic studios and scientific laboratories essential for CSI training - and the recently-unveiled Locard House.
Looking like a regular bungalow complete with bedrooms, bathrooms, a kitchen and a living room, the property is used by CSI course director Staff Sergeant Jon Cooper to host elaborate crime scenes to be investigated by phase three RMP students.
Designed to keep would-be investigators on their toes, almost everything in the structure has been installed to provide a potential stumbling block.
Window sills on the outside of the building are made from PVC while those inside are wooden, creating different challenges for anyone dusting for fingerprints.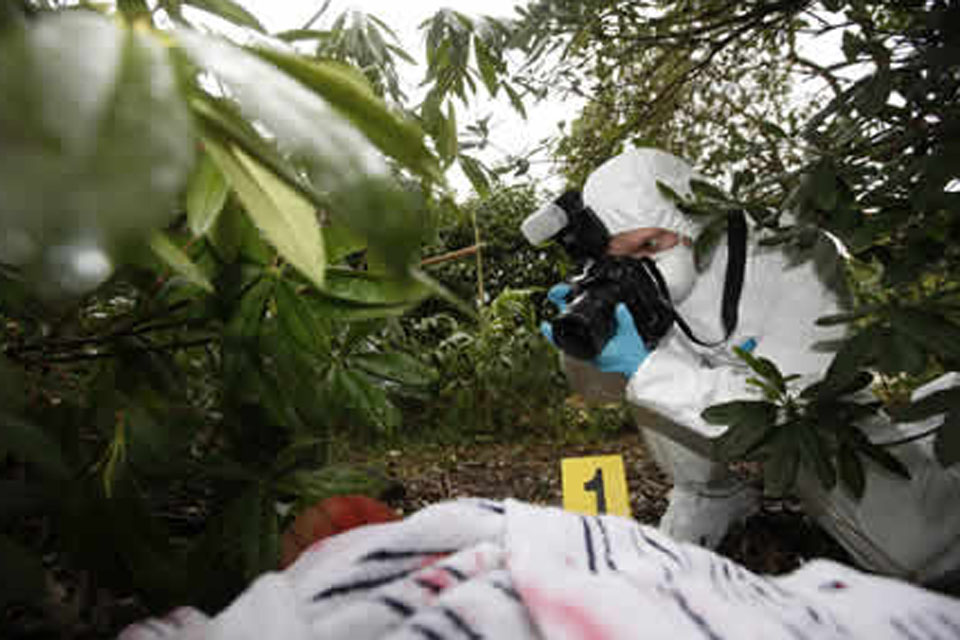 The kitchen counters are made from marble to add a further variable, and computer equipment in one of the bedrooms brings hi-tech forensics into the equation.
And while students put their skills to the test, course instructors can watch their charges' investigations unfold from a control room using the in-built CCTV system and provide real-time feedback over the bungalow's speaker system:
CSI work is exactly like you see on TV, only a lot less glamorous," SSgt Cooper said. "It takes a lot of training and we are very lucky to have the facilities we have here.

Since CSI came along it has educated people in their front rooms about what the job entails.
The back half of Locard House provides yet more Service-related opportunities for practice. A three-man barrack room is perfect for accommodating scenarios likely to be found on the garrisons where the RMP specialists are stationed and contains authentic touches including a false ceiling where those in the wrong could potentially hide incriminating evidence.
Next door is a bar area which again allows those on the course to master their art in familiar surroundings.
The facility's back garden adds yet more depth to the training programme and houses a small crater from an explosion as well as sand and mud pits for forensic examination of footprints and other marks.
While it is important for military CSIs to be able to cope with domestic investigations, the increased likelihood of them being deployed to Afghanistan means they have to be equally comfortable carrying out their vital work in an operational setting.
The DCPG - which is the home for all three Service police forces - takes care of this by having a selection of armoured fighting vehicles and the shell of a helicopter available for training.
Serials using any of the fleet place students under much greater pressure and SSgt Cooper believes this is an important aspect of the teaching regime:
They are in a situation where a soldier has been killed and they are told that they have 20 minutes to work in a small team and get what they need to do done," he said.

We added it because while they might be dealing with a burglary in Germany in the near future, six months down the line they could be on operations where they have a different set of priorities.

The amount of pressure we put on them is enormous but we have to know they are able to be fast and effective.
For the eight or so Service personnel enrolled on each of the four CSI courses run each year, learning all of the tricks of the trade is a tough challenge that is constantly drilled home through a mixture of theory and practical sessions.
As well as being taught by the best the military has to offer, outside experts including a Home Office pathologist and the lead crime scene investigator from the Sarah Payne inquiry - who oversees the final exercise and gives feedback to each candidate - provide further value through their experiences on civvy street.
All of this adds up to a package that is second-to-none.
Anyone considering committing a crime within the Service environment should know that the CSIs from the silver screen only paint half the picture of what their real-life military equivalents are capable of.
But despite their ever-increasing strengths, SSgt Cooper insists that the men and women passing through his course are anything but complacent:
People always had a negative image of SOCOs [Scenes of Crime Officers] from black and white films, but nowadays that image is of someone who can do everything with a magnifying glass and can deal with blood and fibres and the like," he concluded.

CSIs are very good at what they do, but the criminals are learning just as much from the TV programmes as everyone else. No-one is resting on their laurels and this course makes sure that our guys are always up on the latest developments.
This feature is adapted from a report by Stephen Tyler first published in the May 2010 issue of Soldier - Magazine of the British Army.
Published 25 May 2010