RMP assist community training of Helmand police
Members of the Royal Military Police (RMP) have been working alongside the Afghan Police in Helmand province, southern Afghanistan, to create a more community-focused force.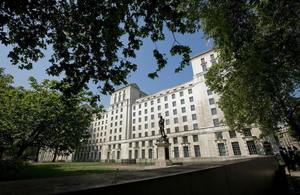 Staff Sergeant Ben Thomson of 160 Provost Company RMP is working in the provincial capital, Lashkar Gah, advising members of the Afghan Uniform Police in a range of police skills.
SSgt Thomson said:
We have been teaching the police to step away from using the rifle and using their voice to project their confidence and command of a situation instead.
The course gathers together the lessons learnt by the Afghan police throughout all their training so they can look at the more civil approach to community policing.
Every policeman in the district completes an annual four-day revision course of voice commands and self-defence, either using unarmed methods or having to resort to the police baton:
The hands-on elements are the part of the training the Afghans love. They like to be active, so getting them involved really does work," said SSgt Thomson.
The training, at the district police headquarters, builds up a rapport between the policemen, showing them that instruction in police skills can be fun, as well as maintaining the discipline the policemen and women have.
The course is designed to build up the confidence of the police officers and enable them to work in a more effective manner for the community:
It's a good feeling seeing the end result after the student has graduated, seeing how far they've come with a confident, hands-on approach to the training, especially as this approach gets a much better result with the locals," said SSgt Thomson.
The main challenges when working with the Afghan Police says SSgt Thomson are the language barrier, keeping the students' interest and keeping them engaged, but he has noted that the more the Afghans are involved in the training, the better they learn and the harder they work:
The best part of our job is the end result, the Afghan police graduating from a four-day course," said SSgt Thomson. "When they leave, they go back to their precinct, back to their checkpoints, and continue their daily activity, providing security for the community.
Published 12 September 2012