Rivet Joint joins Future Force 2020
The most complex military sales case the UK has undertaken with the US Air Force for the last 70 years is well under way.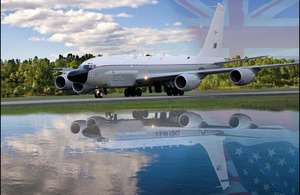 DE&S' Airseeker programme will see the Boeing RC-135 aircraft - Rivet Joint - take over airborne signals intelligence later in the decade.
Three Boeing KC-135 tankers are to be converted to Boeing RC-135W Rivet Joint aircraft in the most complex combined Foreign Military Sales case and co-operative support arrangement that the UK has undertaken with the United States Air Force (USAF) since World War II.
All three will be based at RAF Waddington, replacing the Nimrod R1 aircraft due out of service next year. The Nimrods entered service in the 1960s and provide the UK's only signals intelligence (sigint) platform that collects and examines routine radio signals to provide support to front-line commanders.
Along with the aircraft comes a supporting ground system which is currently providing a similar sigint capability to US Forces.
During Operation TELIC in Iraq and Operation HERRICK in Afghanistan, the US Rivet Joint joined the Nimrod R1 supporting coalition commanders on the ground. This close operational connection will continue, with training set to begin next month at Offutt Air Force Base in the US, involving RAF airborne mission crew and flight deck personnel, along with ground exploitation operators and support personnel.
Up to four RAF crews will be trained at Offut, who will then deploy alongside their USAF colleagues on combined operations worldwide from next summer. This will ensure that operational crews will be fully experienced in running and operating the complex systems well ahead of UK deliveries.
Bill Chrispin, leader of DE&S' Airseeker team, said:
After complex negotiations with the US Government, involving multiple government departments and agencies, this ground breaking agreement will give the UK access to cutting edge technology and will also open up a wider market for world leading UK technology.

Additionally, selection of this capability will give the UK a very high level of interoperability with our major coalition partner. This is a major step forward in providing support to our front line troops. In agreeing this procurement the US Government recognises the significant contribution highly skilled RAF personnel will make to joint operations and the development of future reconnaissance techniques and equipment.
Under a Memorandum of Understanding the UK system will be supported, maintained and upgraded as part of a larger UK/US fleet of 20 aircraft. A rigorous maintenance programme will see the aircraft return to the prime contractor, L3 Communications of Greenville, for a complete strip down and refurbishment together with a system upgrade every four years.
While the three UK aircraft and ground systems will be owned and operated under UK sovereignty, the combined fleet of 20 aircraft and associated systems will be managed by a joint UK/US team based at L3 in Greenville.
It is ground-breaking for the UK to be an integral part of the continuous capability improvement and it is expected that the UK will take part in the programme until at least 2025, although there are options to extend this period. This will mean the capability maintains its relevance against a wide range of modern and complex sigint targets.
The DE&S project team members are working closely with their US counterparts to put the final touches to the delivery schedule for the system and the first UK aircraft, exploitation and support systems are expected to be in service by 2014.
DE&S' Airseeker team is currently building up its numbers to deliver and support Rivet Joint and has moved into its new offices at Abbey Wood; a project managed by the DE&S Collocation team.
Accommodation includes secure briefing facilities and infrastructure enabling classified virtual working with the USAF.
Published 22 December 2010