Riot communities and victims panel announced
Membership of the Communities and Victims Panel responsible for talking to communities affected by the riots in August is announced.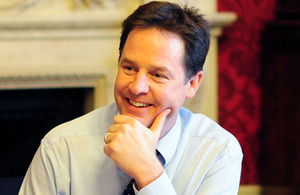 Darra Singh, Chief Executive of Job Centre Plus and former Chief Executive of Ealing and Luton Councils, will chair the panel announced by the Deputy Prime Minister on 16 August. The other panel members will be Simon Marcus, Heather Rabbatts and Maeve Sherlock.
The panel will deliver early findings by November, and present a final report to by March 2012, to the Prime Minister, Deputy Prime Minister and the Leader of the Official Opposition.
The panel will be able to structure their work as they deem appropriate, but it will be a purely grassroots exercise to listen to the experiences of those  in communities affected by the riots and disorder including residents, shopkeepers, parents and young people.
The panel will look at:
the motivation for a small minority of people to take part in riots;
why the riots happened in some areas and not others;
how key public services engaged with communities before, during and after the riots;
what motivated local people to come together to take civic action to resist riots in their area or to clean up after riots had taken place;
how communities can be made more socially and economically resilient in the future, in order to prevent future problems; and
what they think could have been done differently to prevent or manage the riots.
The Deputy PM said:
The August riots were on a scale that many people have never seen in this country. I saw devastating scenes of burnt out shops and houses in neighbourhoods around the country. I met traumatised families who no longer had homes.

Only by listening to people who have been affected by the riots - the victims - will we ever be able to move on and rebuild for the long term. This is not just about individuals, but entire communities.

These victims, who stood side by side and refused to be beaten by the senseless destruction, hold the key to how residents, shopkeepers, parents, young people and communities can move on.

The week after the rioting began, I announced that an independent Communities and Victims Panel would be set up to understand why this all happened and how we move on. Today, I am pleased to confirm that Darra Singh will chair that panel.

This will be a grass roots review - we want to know what happened at street level, not from afar and only from the perspective of those affected.

Having worked with young people, and on housing and violence issues in a range of cities around the country, including London, Darra will be able to lead the panel and delve into this gloomy chapter of Britain's history.
Darra Singh, Chair of the Communities and Victims Panel, said:
This is an important opportunity.  I think it is vital that we hear straight from individuals and communities that have been affected directly and indirectly by the riots.  Along with the other panel members, I am looking forward to hearing their views on the causes and their ideas on how similar events can be prevented in future.
Notes to editors
More about Darra Singh:
Darra will continue as the Chief Executive of Job Centre Plus until the end of September when new arrangements will be put in place.
Before joining DWP in November 2009, Darra had been the Chief Executive Officer of Ealing Council for four years and prior to that had been the Chief Executive of Luton Council.
He grew up in Bradford and read law at Newcastle Polytechnic (now the University of Northumbria at Newcastle-upon-Tyne).
He started as a housing case worker in Tyneside and London in 1984, and then worked for a variety of housing bodies in the voluntary sector. 
Darra became a director of the North British Housing Association in 1991. He was later appointed Chief Executive of the Asra Greater London Housing Association, which specialises in housing ethnic minority tenants, and then worked for Hexagon, another London-based housing association.
In 2004 Darra was awarded an OBE for services to local government.
More on the other panel members:
Simon Marcus founded the Boxing Academy in 2006 and is its current Chair. Based in Tottenham and Hackney this alternative education charity re-integrates teenagers at risk of gang crime and social exclusion. Before this Simon was involved in small business management and worked for the British Chamber of Commerce in Brussels.
Heather Rabbatts CBE is a qualified barrister.  She was Chief Executive of Merton and Lambeth Councils and has since worked in private equity and public markets including the restructuring of Millwall FC. Other roles have included Governor of the BBC, a senior executive at Channel 4, and Chairman of Shed Media. She has held a number of non-executive positions including the Bank of England, the London School of Economics and currently the Royal Opera House.
Maeve Sherlock was appointed as a life peer in 2010 and is working on her doctorate on Faith Schools at Durham University. She served as Chief Executive of the National Council for One Parent Families (a charity working with single parents) from 1997-2000.  She was also the Chief Executive of the Refugee Council from 2003-2006.
Published 31 August 2011