Rifles regiment granted Freedom of Salisbury
Nearly 200 soldiers from 4th Battalion The Rifles (4 RIFLES), a mechanised infantry regiment based in Bulford, and 7th Battalion The Rifles,…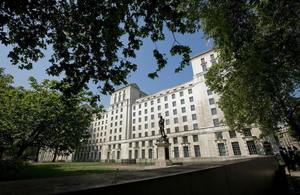 Nearly 200 soldiers from 4th Battalion The Rifles (4 RIFLES), a mechanised infantry regiment based in Bulford, and 7th Battalion The Rifles, a Territorial Army detachment based in Swindon, marched through the city accompanied by the Band and Bugles of The Rifles, Old Comrades from the Royal Gloucestershire, Berkshire and Wiltshire Regiment, and members of the Wiltshire Army Cadet Force.
Her Royal Highness The Duchess of Cornwall, who is the Royal Colonel of 4 RIFLES, and the Mayor of Salisbury, Councillor Brian Dalton, inspected the troops as they formed up on parade in Salisbury Cathedral Close and took the salute by the city's Guildhall during the march.
On presenting the Freedom Scroll to General Sir Nick Parker, Colonel Commandant of The Rifles, the Mayor said:
It gives the citizens of Salisbury great pride to see The Rifles on parade today and I know it is their wish that I should extend to each and every one of you their very best wishes on this great occasion in the hope that The Rifles will go from strength to strength, adding to their honours and occupying with distinction their proud place in their service to the Queen and country.
After the police estimated that some 8,000 people had turned out to see the troops, the Commanding Officer of 4 RIFLES, Lieutenant Colonel Nick Thornton, said:
It was quite remarkable and very humbling to see the thousands of people who were prepared to take time out of their busy day to stand and line the route while we marched past and show their huge support.
The Rifles, through its antecedent regiments, has recruited infantry soldiers from the city of Salisbury for generations.
The granting of the freedom of the city was extended to The Rifles after it was first granted to the Wiltshire Regiment in 1944 in recognition of their gallantry and achievements during the Second World War. Since that time it has also been granted to the Duke of Edinburgh's Royal Regiment and the Royal Gloucestershire, Berkshire and Wiltshire Light Infantry, units which were formed through subsequent amalgamations and finally contributed to the formation of The Rifles regiment in February 2007.
The Rifles, with its motto 'Swift and Bold', traces its values and heritage back to the Peninsular War, and its soldiers march at 140 paces per minute, much faster than the rest of the infantry who march at 120. The five regular battalions and two territorial battalions are based across the whole of the United Kingdom.
Published 23 November 2010