RFA Wave Ruler delivers aid following Hurricane Irene
RFA Wave Ruler sailed from Curacao on 23 August to deliver the disaster relief on behalf of the British Government. The ship arrived off Grand…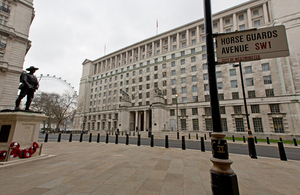 RFA Wave Ruler sailed from Curacao on 23 August to deliver the disaster relief on behalf of the British Government.
The ship arrived off Grand Turk around midday on 25 August and set about delivering the stores and equipment, including tarpaulins, for further distribution throughout the islands.
Damage on the islands included flooding and minor structural damage, with hurricane winds of 90mph (145km/h) having blowing down power lines and roofs.
Wave Ruler's embarked Lynx helicopter, from the Yeovilton-based 815 Naval Air Squadron, conducted an aerial survey with the islands' deputy governor on board to assess damage to outlying islands and settlements.
The ship carries a dedicated team of Royal Fleet Auxiliary and Royal Navy personnel specially trained to support operations and deliver assistance to local communities in the event of a disaster. In this instance, a Royal Navy humanitarian aid and disaster relief team provided extra manpower.
Wave Ruler's Commanding Officer, Captain Steve Norris, said:
It has been a privilege to provide assistance to the Turks and Caicos Islands; our presence here shows [the UK's] commitment to the region.

The ship and her crew will continue to monitor hurricanes during the season and be ready to provide assistance to the UK Overseas Territories whenever we are tasked.
Published 1 September 2011