RFA Wave Knight returns from 11-month deployment
Royal Fleet Auxiliary (RFA) tanker Wave Knight has been welcomed home to Portland as she returned from 11 months away, east of Suez.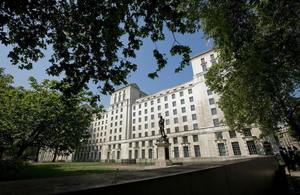 Wave Knight was welcomed home on Friday 16 March by loved ones of the ship's company which was made up of RFA personnel as well as some Royal Navy and Fleet Air Arm personnel in support of her 815 Naval Air Squadron Lynx flight.
Since leaving the UK, the fleet tanker has supported the international naval mission in the Middle East, providing fuel and other supplies to sustain the ongoing fight against piracy and other criminal activities in those troubled waters.
The tanker's time away from the UK has been devoted to supporting the international naval effort east of Suez, providing fuel for coalition ships and aircraft, but also carrying out 'front line duties' on occasion.
The ship escorted P&O cruise ships Oriana and Arcadia through pirate-prone waters as hundreds of passengers stood on deck excitedly waving flags in acknowledgment.
Wave Knight also successfully co-ordinated the rescue of the crew of a stricken pleasure craft - the Princess Melisa. The vessel had issued a mayday distress call and was capsizing off the coast of Oman.
RFA Wave Knight's Commanding Officer, Captain Chris Clarke, said:
Whilst it is always a pleasure to return home, we shall miss the work and daily uncertainty that is ever-present when operating East of Suez.
You never know what each day will bring - other than the unexpected. It is likely to occur and you have got to be ready for it.
The work we do for the maritime community and the support we provide to our Government and our allies is always appreciated - whether that is providing logistic support, reassuring ships on the high seas, deterring and preventing illegal activities such as piracy or simply being ready and poised to react to geopolitical events.
In her 11 months away, the ship steamed 57,460 miles (87,000 km) and replenished 56 warships and five tankers, issuing over 21,000 cubic metres of diesel fuel and 2,000 cubic metres of aviation fuel in the process.
Captain Clarke added:
As ever, none of what we have achieved would have been possible without the dedication and professionalism of the ship's company or without the support of so many family, friends and working colleagues at home.
We dedicate this homecoming to them.
Published 20 March 2012