RFA Wave Knight rescues sailors in distress
Royal Fleet Auxiliary vessel Wave Knight responded to a mayday distress call this weekend from a 70-foot (21m) pleasure craft sailing in the northern Arabian Sea, and helped rescue the nine-person crew.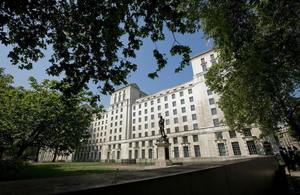 On Saturday, 14 January 2012, the pleasure craft Princess Melisa found herself holed in her bottom plates, taking in water and in danger of capsizing in rough seas off the north east Omani coast.
Wave Knight was the first vessel on the scene and co-ordinated with two SH-60 Seahawk helicopters from USS John C Stennis that were airborne investigating the incident.
RFA Wave Knight rescued the captain and Indian and Kenyan crew of nine using the ship's boat during the night.
The crew were subsequently transferred to an Omani Coast Guard cutter that sped to the scene to rendezvous with Wave Knight.
Captain Chris Clarke, the Commanding Officer of Wave Knight, reported the crew safe and generally well, albeit feeling a little shell-shocked after their frightening experience. He said:
Once again, the mettle and stamina of my ship's company has shone through; this was another highly professional job executed in challenging circumstances. They should feel very proud of themselves.
Wave Knight is one of a number of Royal Navy and Royal Fleet Auxiliary vessels engaged in operations in the Gulf region. The rescue operation demonstrates the close co-operation and co-ordination between international maritime agencies in the region.
Published 17 January 2012