RFA ship awarded Firmin Sword of Peace
Royal Fleet Auxiliary (RFA) ship Largs Bay has won the Firmin Sword of Peace for her role in the Haiti disaster relief effort last year.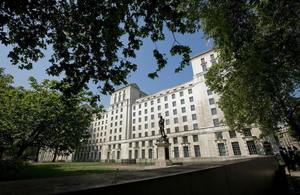 RFA Largs Bay supplied hundreds of tonnes of rations and equipment to Haiti after a terrible earthquake struck the Caribbean island last year.
The ship, which has since been purchased by Australia, won the Firmin Sword of Peace for making the most valuable contribution to humanitarian causes.
Largs Bay was sent by the British Government after more than 230,000 people were killed in the Caribbean territory of Haiti in January 2010.
At a recent ceremony in Portland, the Royal Navy's Commander-in-Chief Fleet, Admiral Sir Trevor Soar, said:
There is no doubt in my mind at all that the teamwork and sheer determination displayed by the ship's company of RFA Largs Bay saved many lives and your help continues to make a difference to the people of Haiti.
When the hurricane struck, the ship was on an operational exercise in the Arctic Circle. She was rapidly reconfigured to provide humanitarian disaster relief and sailed from Southampton.
When she arrived at the capital, Port-au-Prince, Largs Bay combined the ship's ability to position close to shore with the skills of 17 Port and Maritime Regiment to enable landing craft from the ship to cross the final stretch of water to the beach.
Working with American personnel Largs Bay delivered 430 tonnes of supplies and 165 tonnes of rations, which equated to 389,000 meals. Meanwhile engineers worked ashore to repair generators and to rewire key administrative and public service buildings.
In the midst of this the ship's company also managed to raise £10,500 for the Disasters Emergency Committee by running the distance from the UK to Haiti on the ship's running machines.
Captain Ian Johnson, Commanding Officer of RFA Largs Bay, said:
When I consider the previous recipients of this award and their fantastic achievements I feel extremely honoured to accept it on behalf of all who served on RFA Largs Bay during the Haiti relief effort in 2010.
The award is made for valuable contribution to humanitarian causes by developing and strengthening good relations with the inhabitants of any community whether in the UK or overseas.
Published 14 December 2011